K Health Review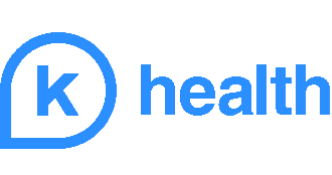 Chat with a doctor right now for just $19! K Health was founded by doctors and artificial intelligence (AI) experts and is quickly moving the healthcare industry into the 21st century. Since launching in 2016, K Health was listed as one of Forbes' America's 50 most promising artificial intelligence companies and has transformed the way millions of Americans communicate with medical professionals. Patients can access predictive models through data and AI, helping them understand their overall health, ideal preventative treatment, and lifestyle shift options. K Health's AI assessment considers age, gender, and medical history to create a holistic plan backed by science. In addition to a monthly membership for primary and preventative care, patients can also opt for one-off chats without a membership to connect with a doctor to diagnose health symptoms and receive treatment. K Health offers its patients access to mental health care with prescriptions being delivered straight to their door if necessary. 
Accepts
Does Not Accept Insurance
Table of content
K Health Company Overview
Founded in Israel in 2016 by former Wix CEO Allon Bloch, K Health has headquarters in both New York City and Tel Aviv and prides itself on offering affordable medical diagnosis and treatment to patients with a smartphone in all 50 U.S. states (though online (desktop) chat is only available in 47). 
This app has built a network of elite doctors and uses a curated medical database (collected by Israeli HMO Maccabi over 20 years) of notes, lab results, medical histories, and treatments that it can cross-reference to predict a patient's medical diagnosis before you are virtually connected with a real-life doctor. This AI is the platform's main point of difference that allows it to stand out in a sea of growing online healthcare providers. It currently has four million users who have joined the online healthcare revolution seeking healthier lives. 
Is K Health Right For You? 
K Health is the perfect solution for anyone looking for a high level of personalized quality medical care — from the comfort of your own home! Gone are the days of finding a primary care doctor, fitting your busy schedule in with theirs, driving to an appointment, and waiting in long lines at the pharmacy. How cool is that?!  
To sign up for K Health, you must first have an online consult with a board-certified doctor. This is only required to make sure that online care is right for you. K Health doesn't want to waste anyone's time, especially yours, as for some, online care isn't a good fit (more about that later), and a medical professional will determine if your medical needs can be accurately and safely met through the platform. 
Ultimately, K Heath is a great digital primary care option for anyone who wants:
Fast and convenient medical condition diagnosis 

Treatment for symptoms without going to a doctor's office

Discounts on medications prescribed by one of K Health's board-certified doctors

Diagnosis for their symptoms, but are in too much pain (or is too sick) to leave the house

Access to unlimited talk therapy and prescriptions for mental health but are embarrassed or ashamed by the stigmas associated with such treatments

A screening for COVID-19 symptoms
Conversely, K Health is a great option for anyone who doesn't want to:
Travel to see a primary care physician for every illness and check-up

Travel to see a doctor for depression and anxiety prescriptions 

Rely on Google searches to self-diagnose symptoms

Pay expensive copays to talk to a doctor for 15 minutes

Pay extra for overpriced health insurance to avoid high deductibles

Waste time in a doctors office waiting rooms with other potentially sick people 
As we talked about above, K Health provides a free evaluation before treating patients to determine if online care is right for them. They also provide a similar evaluation before treating mental illnesses, such as depression and anxiety, to determine if online chat therapy is the best option for them, as K Health wants to ensure each person is fit for remote therapy. However, anyone can decide to talk with a K doctor to find the best path to treatment, but there may be circumstances where one of their doctors decides that it might be better for some to be treated in person. 
Is K Health Credible? 
The short answer is, yes! Both doctors and tech gurus built K Health -- The platform's founders were frustrated with the medical industry and the lack of access to personalized and affordable healthcare. 
All physicians on the platform must have valid medical licenses in good standing in the state where they perform. They are all trained in the U.S. and are board-certified in family, emergency, or internal medicine. Doctors must have three years (minimum) professional experience in inpatient care after finishing their residency to be considered for employment with K Health. 
Also, K Health requires all doctors to be up to date in the latest medical technology and be open to understanding and offering diagnoses to patients via chat and through the app. 
Other K Health reviewers appreciate that all doctors must complete 33% of their working hours during the weekend to ensure that each patient receives the same level of care during non-traditional business hours. Because, let's be honest, who really likes working on the weekends ;) 
And, don't you worry your pretty little head about your personal and medical information being shared with anyone. K Health abides by all HIPPA and GDPR compliance standards, keeping both personal and health-related medical information safe through encryption. In fact, K Health is one of the only online health companies that doesn't even require an email to get free answers to your medical questions. 
Is K Health Safe?
You'll bet your bottom dollar it is! Any person seeking employment at K Health is either a board-certified doctor that performs the actual consults, visits, and diagnosing, or are medical scientists or engineers that handle all the backend work by consistently staying on top of the latest medical tech to ensure each patient receives the best and most up-to-date care by qualified doctors and clinicians.
K Health doesn't prescribe highly addictive medications, such as Xanax, stimulants, Oxycoton, or drugs with harsh side effects, adding another safety layer to its already ultra-safe process. 
What Healthcare Conditions are Treated by K Health?
K Health offers three types of online medical services: remote symptom diagnosis, primary health care treatment, and mental health management, plus medication prescriptions. 
Symptom Diagnosis
One of the main areas of care K Health covers is instant symptom diagnosis. Expert doctors are available anytime to answer questions, and licensed doctors will respond between 9 am and 11 pm EST, seven days a week, to diagnose symptoms, find the best treatment plan, and (if necessary) prescribe medication. In the event you're unable to go to work or school, K Health doctors can even write you a doctor's note (how cute and convenient is that?). 
You don't need to become a member to take advantage of this service; simply pay a one-time fee for the diagnosis and prescription, and you're good to go! If in the event a doctor can't diagnose your symptoms virtually, your money will be refunded, and you'll be referred to a local primary care provider or urgent care center. 
Common symptoms experienced by patients include:
Arthritis

Abdominal pain

Anxiety and depression

Back and neck pain

Bladder Infections

COVID-19, including where to get tested 

Dental infections

Fatigue

Kidney infections

Minor injuries

Nutrition

Obesity

Sexually Transmitted Infections (STI), like Chlamydia

Tobacco dependence 

Urinary tract infections (UTIs)
Primary Health Care
The area where K Health really shines is through their primary health care services. You can replace your in-person primary care provider with one of K Health's online doctors. 
Physicians can offer medical advice, treatment plans, and nutritional guidelines online! The best part is that this telehealth provider uses AI to help patients understand treatment options and how others 'stack up' similar results and concerns. 
This type of care is essential right now. Most primary care providers are limited by time constraints and can only spend 15 minutes or less with each patient on average. 
After researching time spent, we asked ourselves, 'If so little time is spent with patients anyway, why not save the commute time and get treatment online?' 
K Health employs a large network of doctors, and you don't need an appointment to see one. This means that physicians can spend more time with patients, diagnosing each patient's symptoms with the utmost care. You can also switch physicians until you find one that is a good fit.
The best part is that you're not limited by geographic location with online healthcare. If you live in a rural town with only one primary care provider, you're usually stuck with them as the only option (regardless of experience or specialty training). With online healthcare, you get access to the best doctors — all over the country. 
Primary care physicians (PCPs) are doctors who tend to non-emergency needs. Your PCP will:
Offer advice on preventative care and lifestyle choices (check-ups; nutrition and exercise advice; alcohol, drug, nicotine treatment options, etc.)

Diagnose and treat non-specialized medical conditions

Refer you to a specialist or emergency treatment center if necessary

Monitor your overall health trends
This doctor works with specialists to create a holistic plan to help you stay healthy.
Mental Health Management and Medication Delivery
Managing your mental health has never been easier or more convenient, especially during this challenging year. We've all been faced with days that are less desirable than we ever anticipated, and finding a mental health professional that you trust and who can help you with those uncomfortable feelings can be hard. This is where K Health comes in! K takes the mess out of navigating what is covered by your insurance and offers super affordable online therapy for less than the delivery fee of your favorite spring rolls from the Vietnamese place down the street! This AND, K Health doctors can now prescribe medications for mental health issues, including anxiety and depression, that will be quickly and discreetly delivered to your front door.
Anxiety and Depression Medications Prescribed by K Health 
K Health specializes in prescribing SSRI and SNRI medication for depression and anxiety. Medications prescribed include:
Currently, K Health doctors do not prescribe medications that come with serious side effects or require in-person services, such as blood work. It also does not allow doctors to prescribe controlled substances, such as Xanax. While the company does recognize the benefit of such drugs, it also understands that these prescriptions are often abused.
Doctors are also advised to start patients on the lowest dose of medication possible and then increase dosage as needed. A K Health doctor will check in on you during your scheduled follow-up appointments every-other-week to keep communication open and possible side effects at bay. 
These policies are put in place simply to keep patients safe and prevent doctors from prescribing unnecessary medications. 
Popular Treatments Offered by K Health
K treats a wide variety of conditions, but the most popular treatments that K offers include: 
Anxiety and depression

UTIs

Dental Infections 
Anxiety and Depression
Over 20% of adults in the US suffer from mental health illnesses, but fewer than half receive treatment. K Health offers people a holistic approach to managing their anxiety and depression with unlimited access to doctors, check-ins every two weeks, and prescriptions to medications that are delivered straight to your door. 
Urinary Tract Infections
UTIs are never fun, but K Health can take some of the pain out of treating your UTI. If you're experiencing UTI symptoms or think you might have a UTI but don't have health insurance, K is here for you and offers all patients an affordable alternative to going to urgent care. 
Sexually Transmitted Infections
K Health has partnered with Quest Diagnostics (QD) to help those dealing with chlamydia and gonorrhea. K will send you to one of the thousands of QD locations for easy testing, fast results, and ongoing doctor support to help you know that you're not alone. For the low cost of $59, you will be on your way to improved sexual wellness. 
Dental Infections
If you're experiencing jaw pain symptoms, ear pain, or tooth pain, facial swelling, red or swollen gums, you may have a dental infection, and if left untreated, you could be dealing with something much more severe. K Health can help diagnose your symptoms, prescribe medication, and offer affordable follow-up support, even without dental insurance. 
How K Health Works
If you want K Health to act as your primary care physician, you simply need to set up an account and a consultation. As long as your consultation doctor feels that online health care is right for you, you'll be good to go for your first appointment! 
The process is similar for mental health management and medication prescription services, too. After your consultation, you'll need to describe your symptoms to a doctor (via the video chat in the app), and your doctor will let you know available treatment options (if any). 
If you're looking for a one-time treatment for specific symptoms, you'll need to take a few extra steps. Use K's free screening assessment to find out if your symptoms can be treated online!
How to Create a K Health Account
Step #1: Create an Account
The first step to treating your symptoms is to create an account with all your information, including medical treatment history, pre-existing conditions, and current medications. 
Step #2: Chat With an AI bot to Determine Your Symptoms
K Health's AI bot will ask a bunch of questions via the symptom checker to help get you in the hands of the right doctor. Don't worry, you won't be diagnosed solely on this app interaction…Think of this as an intake form at a doctor's office. 
Step #3: Connect With a Live Doctor
Your doctor will review your account and intake information before performing a virtual 'exam.' You'll need to answer questions and talk about your symptoms. In many cases, the doctor can offer treatment options or direct you to an urgent care clinic or emergency room for further diagnosis (if totally necessary). 
Step #4: Get Treatment Options
Finally, your doctor will offer treatment options and possibly prescribe medication that you can fill at your closest pharmacy, or in the case of anxiety and depression medications, those will be sent directly to your home. K Health will also provide you with access to medication discounts to ensure you're not overcharged.
K Health Does NOT treat Some Conditions 
Of course, no medical service is perfect, nor is any healthcare option one-size-fits-all. Unfortunately, K Health cannot treat you if you:
Are under the age of 18 or over 85

Have an illness that requires you to seek an in-person diagnosis, such as an animal bite 

Need a physical, blood work, or treatment that requires an MRI, ECG, or other medical equipment

Have a life-threatening illness or disease

Have a severe behavioral health condition, such as suicidal ideation, bipolar disorder, ADD/ADHD, or eating disorders 

Are unable to talk or type 

Want a prescription for Xanax or other highly-addictive medication

Need a prescription for a medication with serious side effects

Don't have access to the internet, smartphone, or another way of using the app

Suffer from symptoms of erectile dysfunction or hair loss
Because we like to provide our visitors with the most honest and accurate reviews, we want to be sure to note that although K Health offers one of the most comprehensive online healthcare options, it does not replace health insurance. It is always a good idea to carry the most affordable health insurance plan for you. 
Pricing: How Much Does K Health Cost?
K Health offers its subscribers three affordable and convenient membership pricing tiers for both primary and mental health care:
Single-visit with a doctor: $19 a session

Primary Care Membership: $9 per month, which includes full access to unlimited chats with doctors who can diagnose, prescribe meds, and order labs

Primary Care + Mental Health Membership: $19 per month, which includes the above, plus check-ins every two weeks, private text-based chats, and unlimited access to doctors for mental health and primary care concerns

Primary Care + Mental Health + medication prescriptions Membership: $29 per month, which includes all of the above, plus prescriptions that are delivered discreetly to your door. 
K Health also offers STI testing, diagnosis, and treatment, which is not included in any of the above plans. The cost for this treatment is $59, which includes the cost of the consultation ($19) and the test's cost at Quest Diagnostics ($40). 
K Health now works with Anthem insurance company to help decrease costs even further. 
What Do We Think About K Health? 
When it comes to a one-stop-shop for symptom diagnosis and treatment, an AI-powered primary care physician, mental health management, and medication prescription, K Health truly delivers. We love how easy it is to connect with a doctor (day or night) and that the K Health app uses AI to keep patients informed and motivated. 
We also must mention how impressed we are with this platform's ethical code of standards. While the company could make more money prescribing highly-addictive medications and ones with severe side effects, it has chosen instead to take the high road and only allow doctors to prescribe the safest medications online. 
If you need a primary care provider, want better preventative care, easy access to mental health management and medications, or just need your symptoms diagnosed, head over to the website to download the app or get it in the iOS or ​Android App store. You won't regret it.
RELATED ARTICLE: Real Doctors, Real Medication
Interested?
Find out if K Health is right for you