Online Doctor List & Reviews 2022
Online doctors are professional, certified doctors that practice online. They see patients via phone, text message, or video appointments instead of in-person. 
Online doctors are as qualified as the average family physician. According to a 2017 Accenture health consumer survey, 70% of people are willing to try online health care services.
Urgent care centers and primary healthcare systems are unable to fulfill the rise in demand for quality care, and healthcare technology is on the rise. Enter: the online medical healthcare field. Patients can get treated from home, waste less time traveling to and from doctors' appointments, and spend less money on healthcare. 
Doctors are often also more inclined to work online, as a virtual platform helps them connect with more patients at lower overhead costs. 


Why Use An Online Doctor?
Online medical services are curated to cater to a wide variety of consumers, and online consultations are ideal for both doctors and patients. 
The two most obvious benefits of online healthcare appointments are convenience and cost. Online doctor visits simply cost less than in-person ones. And a visit right from the comfort of your own home? Do we even need to point out how convenient that is?
If you're worried you won't like a virtual doctor's visit, don't be: 98 percent of return telehealth patients "would recommend" it to others. 
There is a long list of advantages of online doctor and online medical services, including:
No travel
Lower costs
More convenience
No wait times
Increased privacy
No Need to Travel

Every time you visit your doctor, you need to travel to an office. With online consultations, your doctor is just a phone call, video call, or text away. You can even speak to your doctor without leaving your couch.
At-home healthcare is even more vital for patients that have limited or restricted mobility and underlying health conditions. Online doctors' appointments are also ideal for anyone with a busy schedule, work commitments, or other workday appointments.
Better Way to Check your Symptoms
You should always consult a doctor about your symptoms — not Google. 
Symptoms alert us to imbalances in our bodies, underlying conditions, and chronic issues. Waiting to treat symptoms is one of the most common causes of chronic illness. 
It's easy to underestimate symptoms without professional advice. Online doctors and medical care teams can help you identify health issues, diagnose symptoms, and treat conditions.
Online Doctor Visits Cost Less
Online medical services tend to be inexpensive — especially compared to the cost of traditional health care. According to research conducted by a health affairs journal, online doctors and medical facilities can help you save up to $88 each time you see a doctor. If you visit the doctor at least once a month, telehealthcare can save you $1,056 per year.
The cost of an online consultation is meager compared to traditional in-person appointments (especially if you don't have health insurance). An average doctor's visit can cost you upwards of $120, whereas an online doctor consultation is as low as $20.  
Privacy and Security
When you visit a doctor, the office staff is charged with filing and handling your medical records. Human error can increase the chances of data/information theft. 
Sensitive appointments, such as STD checks and treatment or mental health therapy, require even more discretion.
Online doctor and medical care services comply with the HIPPA (Health Insurance Portability and Accountability Act), which ensures that all your data is safe. Most online doctor and medical care services deploy end-to-end encryption to protect your data, and most of the data management work is managed by computers, which reduces the chance of data leakage.
Convenient and Comfortable
Imagine you're traveling to a developing nation for work, traveling intercity, or are a full-time parent or a differently-abled person. Wouldn't it be great to contact a doctor with just a push of a button? 
Traveling to a doctor's office and waiting for up to an hour (or sometimes more) for an appointment just isn't convenient for anyone. 
Besides, what doctor's office waiting room can beat the comfort of your own home?
Online board-certified physicians may also specialize in areas such as behavioral health, pediatrics, chronic conditions, women's health, men's health, and psychiatry.
They can diagnose your symptoms and offer treatment — and even send prescriptions to your local pharmacy. You can pick up your prescription or have it delivered to your home or office (which is ideal for anyone with mobility issues, limited access to transportation, or social distancing during a pandemic). 
Virtual doctor visits may include a video consultation, follow-up video visits, or contact via phone or text message.
Can Online Doctors Write a Prescription?
Yes, online doctors can write a prescription. 
Online doctors and online medical care platforms offer efficient consultations and treatments. Your telehealth doctor can prescribe medication or simply recommend ways to manage symptoms at home through lifestyle changes. 
The process of getting a prescription from an online doctor is generally the same across most platforms.
Step 1: Sign up for an account on the healthcare platform and book your appointment
Step 2: Consult with your online doctor the same way as you would in person; discuss your symptoms, medical history, and ask questions 
Step 3: Based on the diagnosis, your doctor will write you a prescription
Step 4: Visit your nearest pharmacy (or online pharmacy) and get medication. Some companies also send medicine directly to your home.

Laws Regarding Prescriptions Online
Doctors all over the world are offering online prescriptions, yet the laws that govern them are country-specific. Each country's policies and rules are created by its drug-controlling authorities. Some states even police their own local laws regarding online prescriptions.
Laws also govern the types of medication you can receive from an online service provider. Online doctors cannot write prescriptions for stimulants, narcotics, and highly addictive drugs. 

Common Conditions Treated by Online Doctors
Online doctors can treat a wide range of conditions, from mental health issues to primary care and urgent care (non-emergency) conditions. 
Some primary care conditions commonly treated by online doctors include:
Acne
Diabetes
Erectile dysfunction
High cholesterol
Mental health conditions
Thyroid disorders

Some urgent care (non-emergency) conditions online doctors commonly treat include:
Cellulitis
Dental infection
Headaches
Rashes
Respiratory tract infections
Stomach issues
Strep throat
Tonsillitis
Urinary tract infections (UTI)
Vaginitis
Guide to Choosing the Right Online Doctor Platform
Before choosing an online doctor or online medical platform, you should consider a few factors, including:
Cost
Doctor expertise and experience
Doctor specializations
Ease of appointment scheduling
Consultation methods (text, phone, or video)
Privacy and security measures
Health insurance acceptance policies
Cost of Online Doctor Consultation
The cost of services provided by online doctors varies. 
At the core, all online doctors provide consultations and medical care. Still, each doctor may use different pricing structures. Sometimes one telehealth professional may be a good fit for a patient (based on personal needs) and might not be the best fit for others.
Some websites offer a monthly subscription (which makes a lot of sense for ongoing treatments); some websites offer minute-based pricing (which makes a lot of sense for quick consultations), and some websites offer one-off consultations (ideal for primary health care). Some websites even offer all three pricing models.
Online Doctor Specialization and Experience
Before making an appointment, you should always research a platform's areas of specialization and experience. 
Many platforms list each doctor's education and experience. It's always a good idea to match your doctor's experience with your symptoms, conditions, and treatment options. 
The good thing about online doctor platforms is they often staff backend teams that match patients with the most suitable doctor.
Ease of Starting Online Consultation
Most online doctors can diagnose and treat your symptoms in three easy steps. 
The process of connecting with a doctor should be easy and quick — though, the experience at an in-person doctor's offices doesn't always feel that way.  
Most online platforms offer doctor-patient communication via mobile apps for quick and seamless communication with online doctors. 
Medium of Communication
Online doctor and medical care platforms work in different ways when it comes to doctor/patient communication. 
Some platforms use chat-based platforms; some allow you to contact doctors via phone call. Most platforms offer real-time, face-to-face online video calls between doctors and patients. 
Essentially, you can choose how you want to connect with your doctor and find a platform that will accommodate your preferred communication method. 
Privacy and Security
When you consult with your doctor online, you'll inevitably share personal information, such as your name and address as well as your test reports, medical history, and symptoms. 
This is why platforms take security and privacy extremely seriously. You should always ask potential online doctors and platforms about their privacy, data sharing, and security policies, to ensure they meet government standards.
Insurance Policies
Health insurance plans don't always cover online doctor consultations; yet, many insurance companies are now changing their policies to cover telehealth services (especially COVID-19 testing, treatment, and antibody testing). You should always check with your health insurance provider to ensure your plan covers online healthcare services before scheduling a consultation. 
Since most telehealth platforms charge a flat fee for services, you won't need insurance coverage as most treatments are comparable in cost to most insurers' copays. 
Are Online Doctors Covered Under Health Insurance?
At the moment, there are no set standards for private health insurance providers in terms of online doctors and online medical care. 
Yet, some health insurance companies understand the merit behind online consultations and now cover them. 
The only downside is that not all online services can bill health insurance companies, as there are not medical accounting codes yet for new services.  
Some health insurance companies have limited or restricted coverage for online consultations under their policies and require prior approval before reimbursement of medical expenses.
Can an online doctor and online medical care be used with global reimbursements? Yes, global reimbursement is single payments made toward your health insurance for coverage of conditions or events which might occur while you are traveling to other countries. 
What If You Don't Have Health Insurance?
Getting medical treatments can seem like an uphill financial battle if you don't have health insurance. 
But the good news is that online doctors and medical care services have options for patients without medical insurance. Some medical providers offer specials for patients without insurance while others simply charge less than a typical copay. Federal funding also helps keep the cost of medical healthcare down. 
The average cost of seeing a doctor without health insurance is between $300 and $600. 
Without any health insurance, the cost of seeing an online doctor can be as low as $20, saving patients hundreds of dollars compared to an in-person visit. 
During your online consultation, your doctor will ask about your symptoms, your medical history, and discuss treatment plans. Your online doctor will then provide you the most affordable treatment options. 
Some companies even claim that if their doctor is not able to treat you online, your appointment fees will be returned.


What DON'T Online Doctors Treat?
Please understand that there is a difference between urgent care and emergency care. Some symptoms and conditions are too severe for either urgent care clinics or primary care doctors. In situations where you need immediate attention, please call 911 or local emergency helpline number. Some emergencies where you should seek immediate help from experts include:
Shortness of breath
Chest pain
Severe cut or broken bone
Head or eye injury
Sudden and severe headache
Symptoms of a stroke or heart attack
Severe allergic reaction (anaphylaxis)
Severe and persistent vomiting or diarrhea
A condition you may need to be hospitalized for
Confusion, altered mental state, or suicidal thoughts
Best Online Doctor Companies
DoctorOnDemand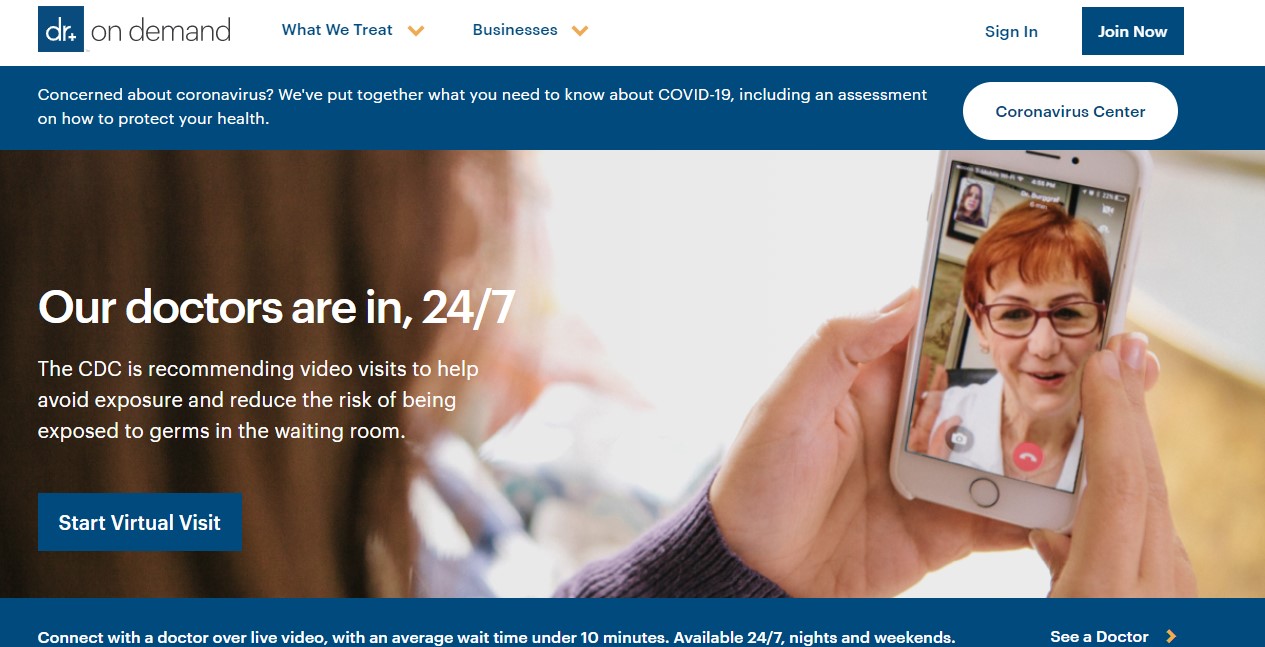 Founded by Dr. Phil McGraw (A celebrity psychologist and TV personality) along with his son Jay McGraw in 2013, DoctorOnDemand is an on-demand service. 
Doctors are available 24/7 and can diagnose and treat primary health care conditions like flu, cold, etc. You can also make appointments for follow-ups and ongoing treatments. 
If you want to book a follow-up consultation or ongoing session at a later date and time, you can choose your doctor from a list of available doctors. Otherwise, if you want to make an on-demand appointment, you'll simply speak to the next available doctor. 
DoctorOnDemand is free to join; just pay a flat rate for consultations. Its fees are very affordable (even for patients without health insurance). The platform also accepts health insurance from some providers. 
The platform also regularly offers deals and coupons.
Advantages of DoctorOnDemand 
There are plenty of benefits to scheduling a consultation with DoctorOnDemand, including:
Free account registration
Clear pricing structure
Consultations start at only $75
Some health insurance plans are accepted (such as UnitedHealthcare and Humana)
DoctorOnDemand offers also allows you to book both on-demand and pre-scheduled appointments with your doctor. In addition to primary healthcare services, they also provide mental healthcare services. 
Disadvantages of DoctorOnDemand 
Each 15-minute consultation costs $75, making DoctorsOnDemand one of the priciest online doctors on this list. After your 15 minutes is up, you need to pay an additional fee. 
Patients are not able to choose on-demand doctors and are simply assigned an available doctor. If you want to consult with a specific doctor or a doctor that specializes in your condition, this may not be the right platform for you.
BetterHelp.com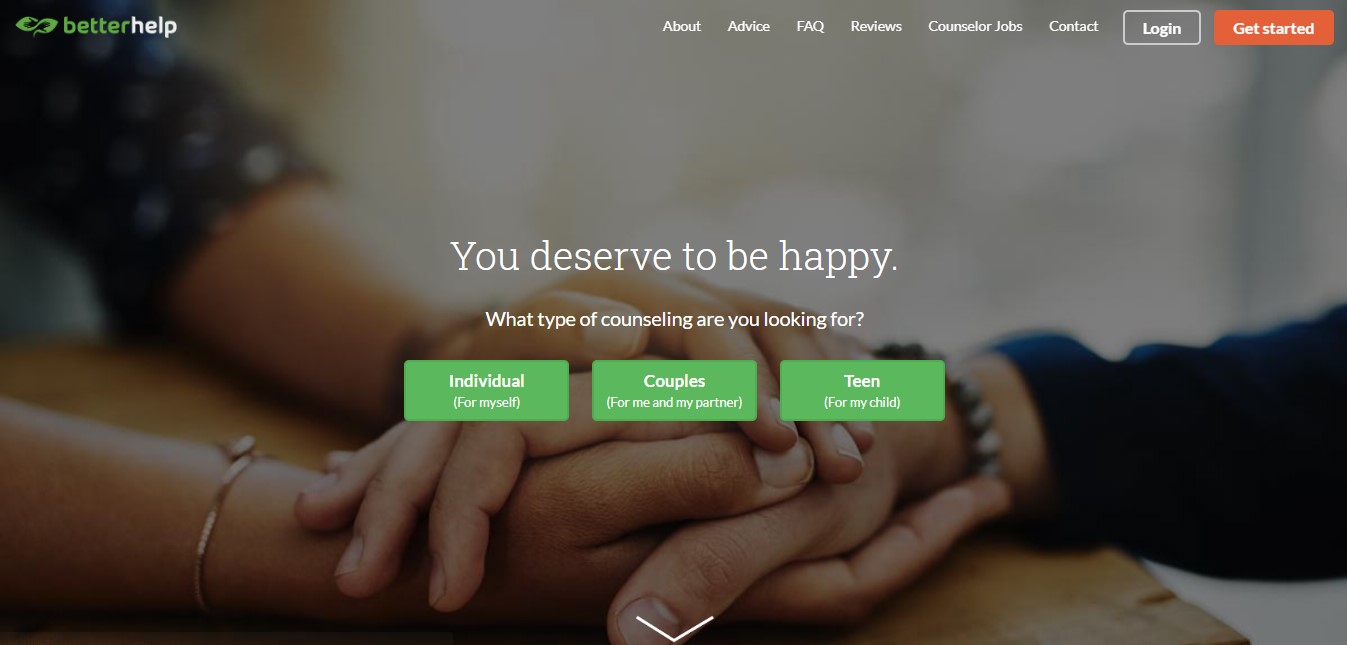 BetterHelp was founded back in 2013 and is now the no. 1 online therapy platform in the United States. 
BetterHelp has a network of over 5,000 licensed mental health professionals. 
Thanks to the platform's immediate success, it was acquired by Teledoc, the largest healthcare provider in the United States. With the help of Teladoc, BetterHelp has been able to expand its network and its service areas. 
After joining BetterHelp, trained staff will match you with a therapist that specializes in your mental health needs. All online counselors are trained professionals, and they're accredited and licensed in the state/s where they practice. 
BetterHelp allows you to communicate with your counselor via text messaging, live chat, voice chat, or video conferencing — or a combination of all four. Patients are not restricted to one medium of communication. 
The cost of e-counseling with BetterHelp starts at $40 to $70 per week, depending on how many live sessions you need each week. The pricing also depends on your preferred medium of communication.
Advantages of BetterHelp.com
The fact that you can communicate with your therapist either via text, live chat, voice chat, or video call makes it easier for anyone to start therapy with a trained professional. 
All communication takes place through a secure server, which keeps your information protected. Chat rooms are open 24/7, allowing you to connect with your counselor anytime/anywhere you want. 
When you sign up on BetterHelp, a team member matches you with a therapist. This process usually takes less than 24 hours. 
This means you don't have to wait long to make your first appointment. 
In the case your counselor isn't a good fit, you can choose to be matched with another counselor, ensuring customer satisfaction and uninterrupted therapy. 
Disadvantages of BetterHelp.com
Most of the top health insurance companies like Medicare and Medicaid are still not covered under BetterHelp. 
That means you'll pay for therapy sessions out of pocket. 
Its pricing structure reflects a weekly fee, but you're billed for one entire month at one time, so you'll need to commit for (at minimum) one month when you sign up. Counselors at BetterHelp are not licensed psychotherapists, do not write prescriptions for mental health drugs, and are not authorized to fulfill court-ordered counseling. 
First Opinion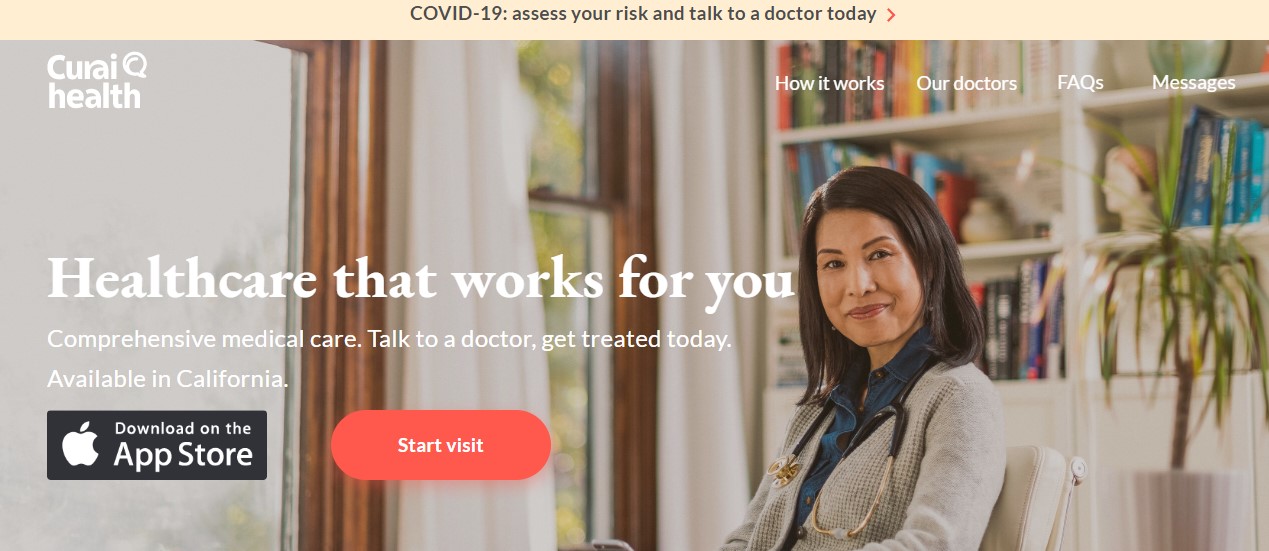 First Opinion is an entirely free service that offers free health advice 24 hours a day, 7 days a week. Patients can ask matched doctor teams (MDT) questions about their health and get clarity on symptoms as well as treatment advice. MDTs can also advise patients when it's time to see a doctor. 
Advantages of First Opinion
First Opinion is a 100% free online doctor consultation service. You don't have to worry about insurance and billing because First Opinion doesn't cost a penny.
First Opinion is operational 24/7, which makes it convenient for anyone to get medical opinions anytime. 
There is no limit to the number of questions that you can ask medical teams. When you register for an account, you are connected with a group of doctors that are led by a primary clinic director. 
This simple registration process takes less than a minute, and every time you log into your account, you are counseled by the same team of doctors. Having a team of doctors there to share their opinions means you get the right answers, usually within just five minutes.
Disadvantages of First Opinion
The most significant disadvantage of First Opinion is the fact that it is only a messaging service. 
Patients that need an actual medical examination followed up by a proper diagnostic process (including lab tests, prescriptions, or sick notes) should check out some of the other online doctors on this list.
The First Opinion app is only available for iPhones, which means that android users are not able to access their services. 
Since you are connected to a team of doctors, there isn't much scope for personalization in this scenario as they are only matching your profile with a group of doctors based on the necessary information that you provide during the registration process.
Teladoc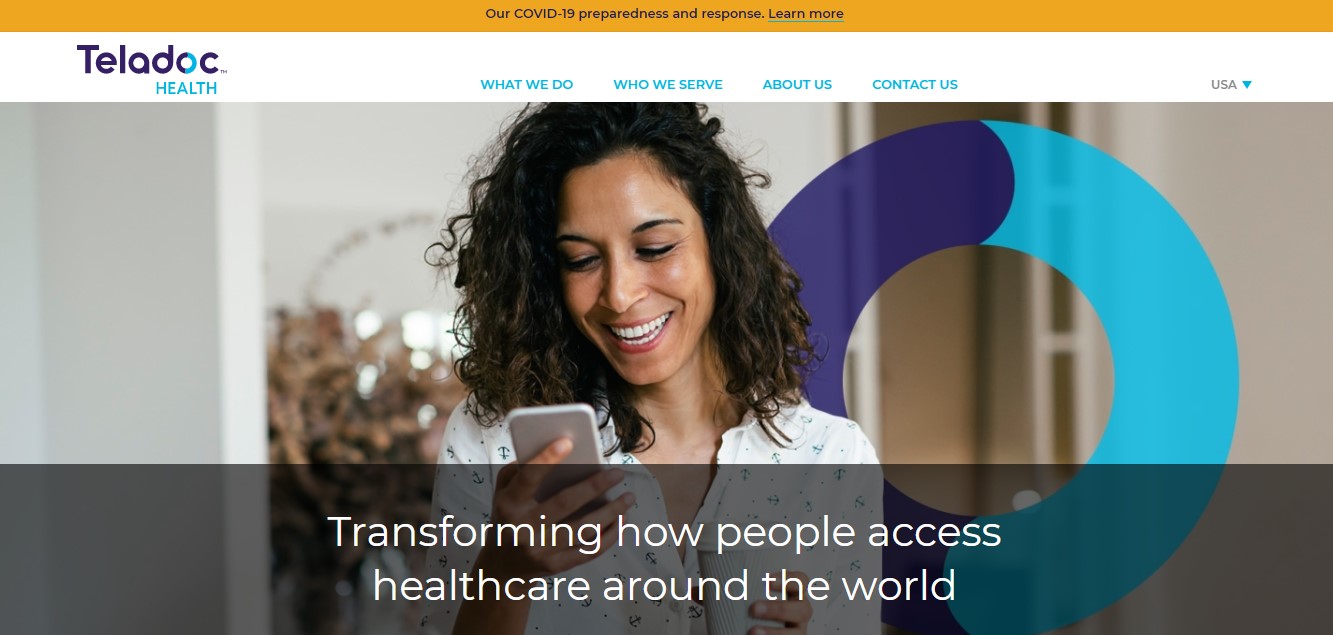 Online doctor and medical care services operate on different fundamental concepts that cater to different sets of audiences. 
Teladoc is not like many online doctor websites that provide primary health care services or replace your primary care physician. 
Teladoc is a service that offers immediate health care services for common medical conditions like colds, flu, rash, or a minor injury where you require care from a doctor sooner than you would be able to get to a primary care physician's office. 
It is easy to start an online consultation with your doctor at Teladoc, where the process begins with creating your account on the website or mobile app before requesting an appointment. 
You choose to schedule a phone call or a video call with your online doctor. You also get to choose between scheduling an immediate call or request one for a later time.
Advantages of Teladoc
With Teladoc, you don't have to wait for an appointment to see your primary care physician or wait at urgent care to speak with your doctor. In fact, you can do that in just a matter of minutes. 
Teladoc is available both via mobile phone app and website, so it's easy for anyone to access their platform. 
With Teladoc, you can schedule an appointment as soon as possible or you can also schedule appointments for a later date and time. 
You need to worry about rushing through your appointment while chatting with your doctor, as there is no time limit to calls. 
Disadvantages of Teladoc
At Teladoc, you aren't able to choose your own doctor. Rather, you are connected with the next available doctor. 
If you need medical care for an illness that requires more than a consultation call or you are a repeat user, chances are you might not chat with the same doctor since there is no way to make such a request. 
Teladoc also doesn't post its prices anywhere on its site. Even if your Teladoc doctor is not able to help you out and advises you to see a primary care physician or to visit emergency care, you still need to pay for the call.
Amwell (AmericanWell)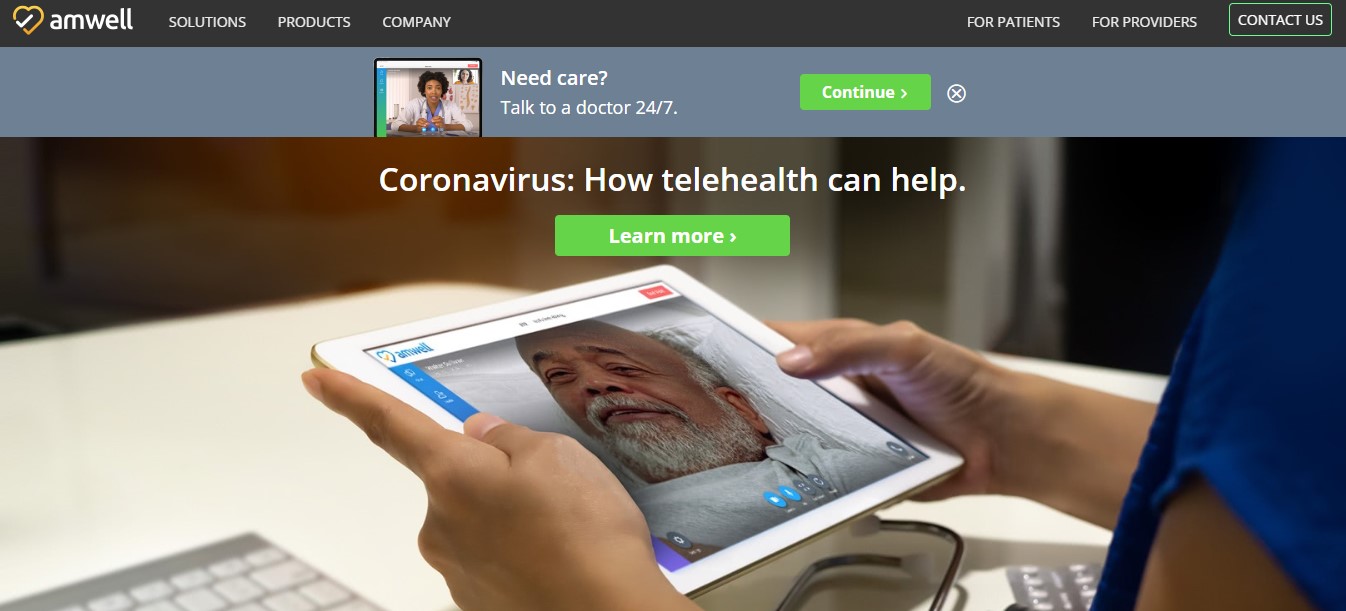 Amwell is another telehealth platform that offers same-day consultations with online doctors. 
It is easy to get started with this platform. Create your account and provide the details of your medical history and symptoms. 
After filling out this information, you'll wait in a virtual waiting room (like a traditional doctor's office). Usually, it takes only a few minutes before you start online consultation with your doctor. 
A typical call with Amwell's online doctor lasts about 10 minutes as the intention is not to replace your primary care physician but to supplement them. The cost of urgent care with Amwell is only $69 per consultation call if you are uninsured. If you have a participating health policy, you only need to pay a copay.
With Amwell, you can schedule an online consultation with a doctor that can diagnose your symptoms, offer treatment advice, and write prescriptions. All prescriptions are sent via email and/or to your local or online pharmacy. 
In addition to primary health care consultations, you can also speak with a mental health therapist, psychiatrist, dermatologist, cardiologist, and other experts.
Advantages of Amwell
Amwell is very cost-effective (especially compared to a visit with a primary health care provider). Visits start at $69 per consultation, while in-person primary healthcare office visits cost (on average) at $139 per consultation. 
Amwell also hires specialists in nine different fields. Online doctors at Amwell can also write prescriptions (if necessary). All the services provided by Amwell are on-demand services, which means you don't need to wait to consult a doctor; instead, get immediate attention to your issues.
Disadvantages of Amwell
Amwell is an on-demand doctor service, meaning you can't schedule calls with a doctor. Simply log on and speak to a doctor on demand.
You may also need to wait in a virtual waiting room for a few minutes. 
While most consultation calls cost $69, some appointments may cost more. Specialists and experienced doctors may charge up to $199 per consultation call. Urgent care appointments with Amwell only last up to 10 minutes, which means you may need to rush during your conversation — which might result in some confusion. 
SteadyMD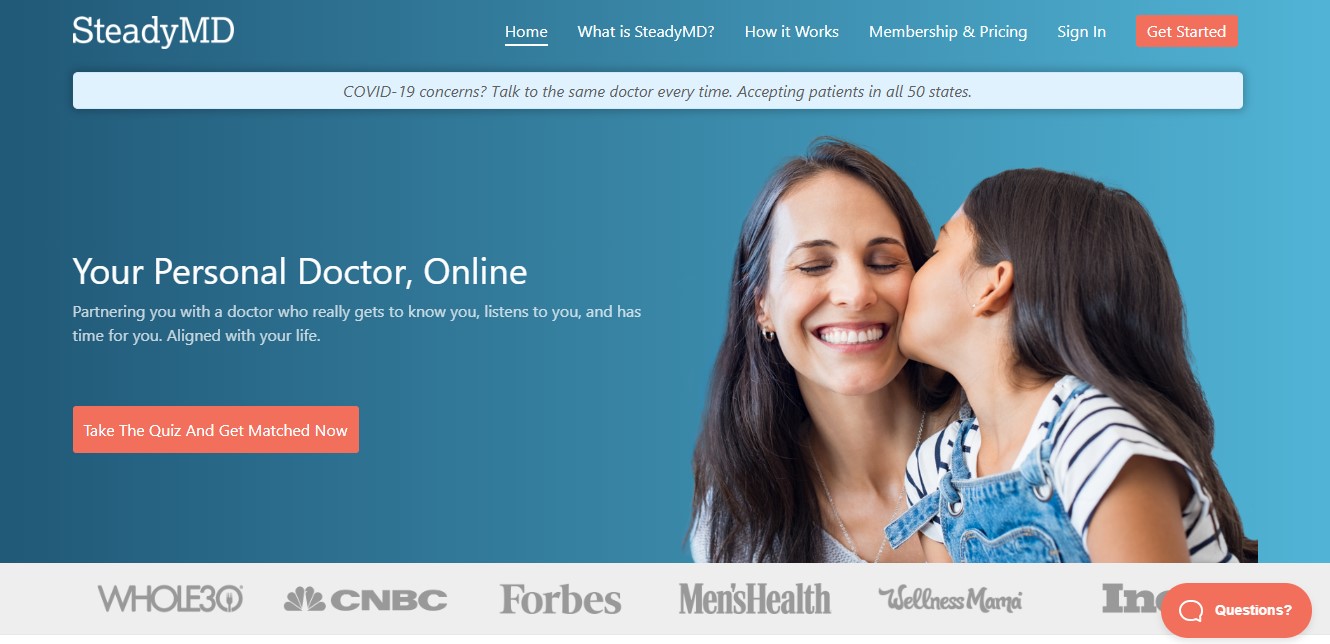 SteadyMD sets itself apart from the other platforms on this list by offering patients the ability to choose their own doctors — each time they visit.
Therefore, for different medical issues, you may opt for a different doctor. 
All the doctors at SteadyMD are qualified the same as a traditional general physician. 
SteadyMD offers membership at a flat rate of $69/month per patient and $169/month for a family; this makes it an affordable choice as well. SteadyMD also saves time and money as there's no need to travel to a doctor's office. 
To schedule your first appointment, you'll first need to sign up for an account. Once you create an account and have chosen a doctor, you can schedule a video chat with your doctor (usually within one or two days). 
Most appointments last around one hour. 
Doctors at SteadyMD are friendly; they usually begin getting to know each patient, so you can feel comfortable discussing your lifestyle, medical history, and symptoms. 
After your first appointment, you can make a same-day follow-up appointment with your SteadyMD doctor, which is very rare with other telemedicine platforms. 
You can also text or call your doctor. To maintain this high level of patient care, doctors of SteadyMD have as few as 200-to-400 patients (rather than juggling more).
Advantages of SteadyMD
One of the main advantages of SteadyMD is that you can get a prescription in the comfort of your home. 
Patients can also enjoy unlimited text and calls with doctors. SteadyMD collects and integrates all your records to create a comprehensive health report, offering other doctors on the platform a holistic view of each patient's health. 
You can even integrate information collected from health and fitness apps into your SteadyMD profile. 
In case your doctor is not available when you have a question, the other doctors on SteadyMD will step in and answer any questions. Doctors post their profiles on the app, so you can ensure you're chatting with one that best understands your conditions and symptoms. 
Disadvantages of SteadyMD
SteadyMD is a subscription-based online doctor platform, which may not be as cost-effective for patients looking for a one-time treatment. 
The platform also requires patients to commit to a one-year membership — even if you don't end up using the service every month. 
Sometimes it can take one or two days to set up your first appointment with the doctor, so patients that need an immediate consultation might not find the platform a good fit.
MDLIVE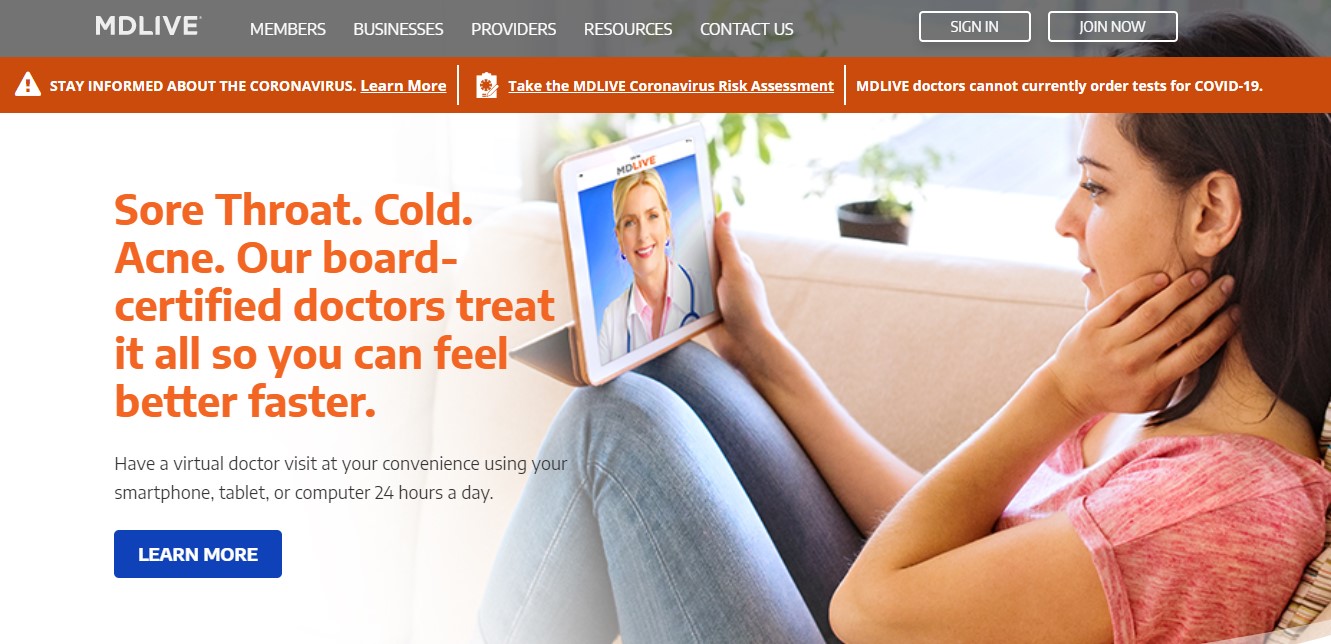 MDLive is a telemedicine provider that makes it easy for you to visit a doctor within minutes through their app, online, or by phone. 
If you are looking for urgent care, dermatology, behavioral healthcare, or primary care, then MDLive is the answer. 
Many of us have busy lives, and we neglect our health issues simply because we don't have time to fit a doctor's appointment into our schedule. MDLive allows you to book an appointment with the doctors 24 hours a day, 7days a week — all in the comfort of your home. 
Usually, it takes more time to fill out a health form in a traditional doctor's office than it takes to get an appointment with an MDLive doctor. 
Once you register (for free), a doctor can connect with you in as soon as 15 minutes.
MDLive has more than 27 million members. Once you become a member of MDLive, you can have your own network of doctors. 
You can also opt for an on-demand video or phone visit, and MDLIVE has different pricing for various treatments. 
Book a dermatologist appointment for only $69. Urgent care appointments are priced at $75, and counseling appointments cost $99. 
You can also see an online therapist with MDLive; first-time consultations cost $259, and follow-up appointments cost $99. MDLive accepts health insurance, and patients with some health plans may only need to pay a copay.
Advantages of MDLive
MDLive offers immediate same-day appointments with no sign-up fees.
Since there are no membership charges involved, so you only pay for the care you need. If you don't need a same-day appointment, you can book one for a later date. 
MDLive also provides a free iPhone and Android app. The platform is HIPAA compliant, which means your medical records are safe and the app is also accessible to the hearing-impaired.  
All the physicians are qualified, and you can pick a physician of your choice. You can also get treatment through the app, including prescriptions and lifestyle advice.
Disadvantages of MDLive
Doctors' appointments at MDLive last for only about 15 minutes. Prices per service can be higher than some competitors', but MDLive is still affordable compared to in-person urgent care or emergency care. You may need high-speed internet access and updated software to use the video conferencing app.
Sherpaa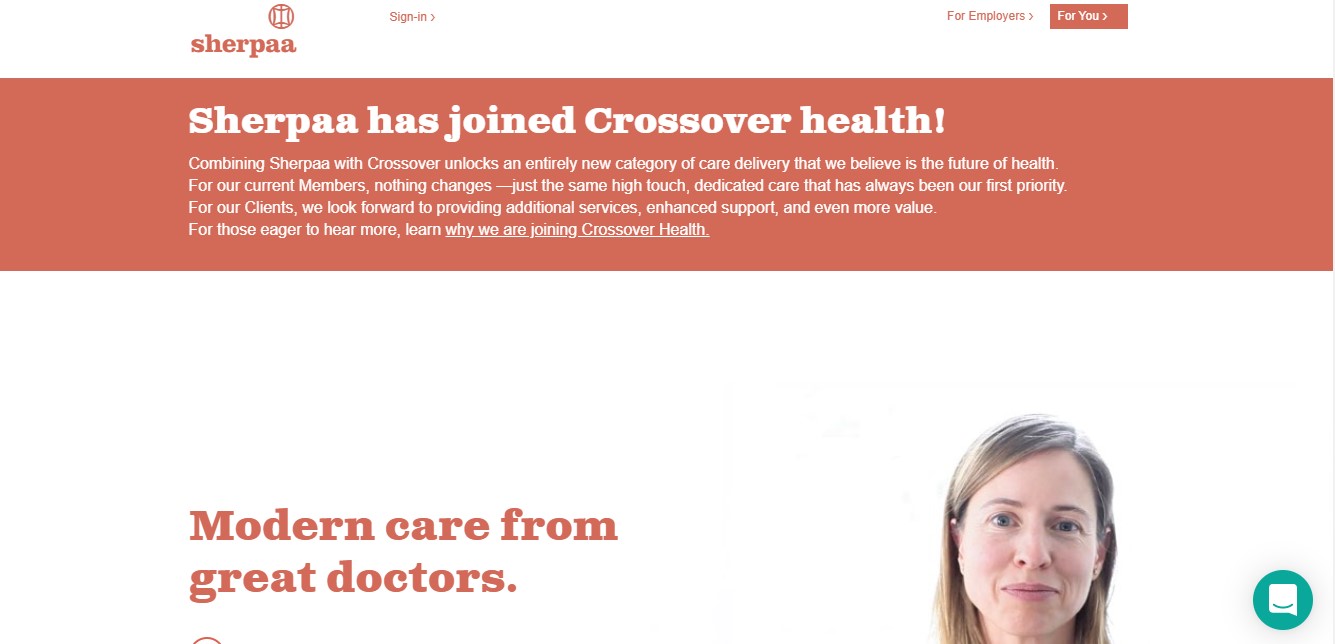 Sherpaa is an easy way to get care at home. It sells monthly memberships to patients needing to connect with doctors online. 
Sherpaa has a team of experienced doctors that can diagnose around 1,500 simple and complicated issues. Sherpaa does charge a monthly membership fee, but on the brighter side, you get unlimited, 24/7 care from its doctors. 
Sherpaa estimates that nearly 70% of medical issues related to primary care can be treated online — through oral exams alone. Doctors can also order laboratory tests and imaging testing and write prescriptions (if needed). 
Sherpaa starts at $99 a month. You can also enroll in a one-year basic unlimited care plan for $270 a year. The added benefits of the unlimited care plan include unlimited service, second opinions, specialists' referrals, access to prescriptions, and test results — all in your mobile app. 
You will always work the same team of doctors that are available within minutes.
Advantages of Sherpaa
Sherpa offers both one-month memberships for short-term consultations and one-year memberships for ongoing care.
The membership fee at Sherpaa is still much more affordable than the cost of most emergency room visits. 
Sherpa considers itself as virtual primary care, not a telemedicine provider. Doctors at Sherpaa can treat a wide range of simple to complex medical conditions. You can work with the same doctor every time. 
Also, your interaction with the doctor is not limited to 10-to-15 minutes only. Once you set up your account, you get unlimited access via phone call or message. A Sherpaa doctor can also order lab tests (just like your traditional physician). 
Best of all, you get on-demand medical care with Sherpaa, where you don't have to schedule a prior appointment. Once you send your doctor a message, your team will respond as promptly as possible.
Disadvantages of Sherpaa
One disadvantage to Sherpaa is that annual ongoing memberships can cost nearly $1,000 annually. Sherpaa's Plus membership costs $400 and the Extra membership $900 per year. 
Membership is not covered under insurance plans, although lab tests and other diagnostic tests might be covered. 
Sherpaa provides most of its care via messaging or an occasional phone call; this may not be a suitable choice for those who need to connect more via a video chat. 
Also, you do not get to choose your own doctor. Instead, you will be assigned to a team of five-to-seven medical professionals.
LiveHealth Online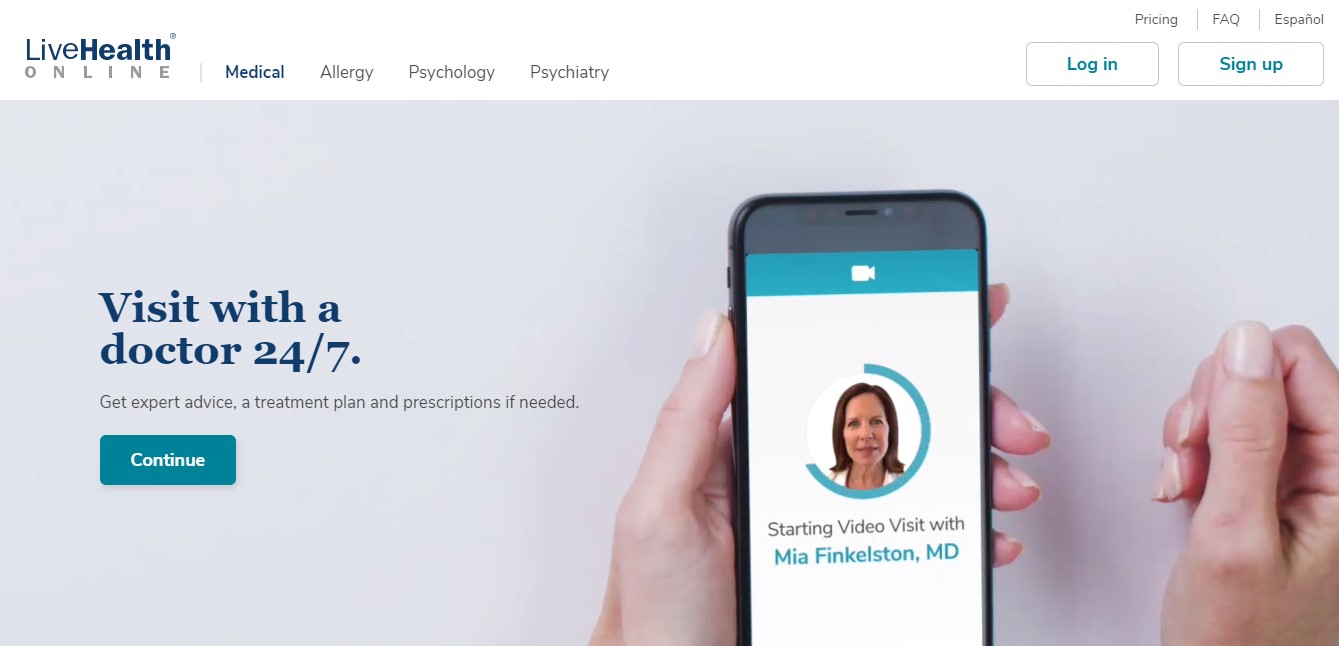 LiveHealth Online is an online medical service provider that offers on-demand doctor general medicine consultations 24 hours a day. 
It is one of the most affordable telemedicine providers on the list. General medicine and urgent care video appointments start at just $49. 
LiveHealth Online also accepts medical insurance from major insurance companies' plans like Amerigroup, Blue Cross Blue Shield, and more. There are no membership fees. 
The platform also offers treatments for allergies and mental health.
Advantages of LiveHealth Online
LiveHealth Online is a great choice for those who are looking for one-time medical assistance. 
The platform doesn't charge membership fees; you can become a member online without paying any charges. 
Once you become a member, you only need to pay for individual appointments. As mentioned above, it is one of the most affordable telemedicine providers. Get medical care for general medicine and allergies at just $49, and chat with a therapist for $80 or a psychologist for $95. 
You can also choose your own doctor, based on each doctor's profile. Included in each profile is a doctor's medical school, experience, specialty, and more. 
All the data from video exams are stored in your account, and you may choose to share these records with your doctor during future appointments.
Disadvantages of LiveHealth Online
LiveHealth Online appointments only last around 10-to-15 minutes. If you request a sick note during a consultation, you'll need to reach out to customer support to get the downloadable PDF. 
Also, LiveHealth Online does not offer follow-up appointments within the cost of the consultation.
PlushCare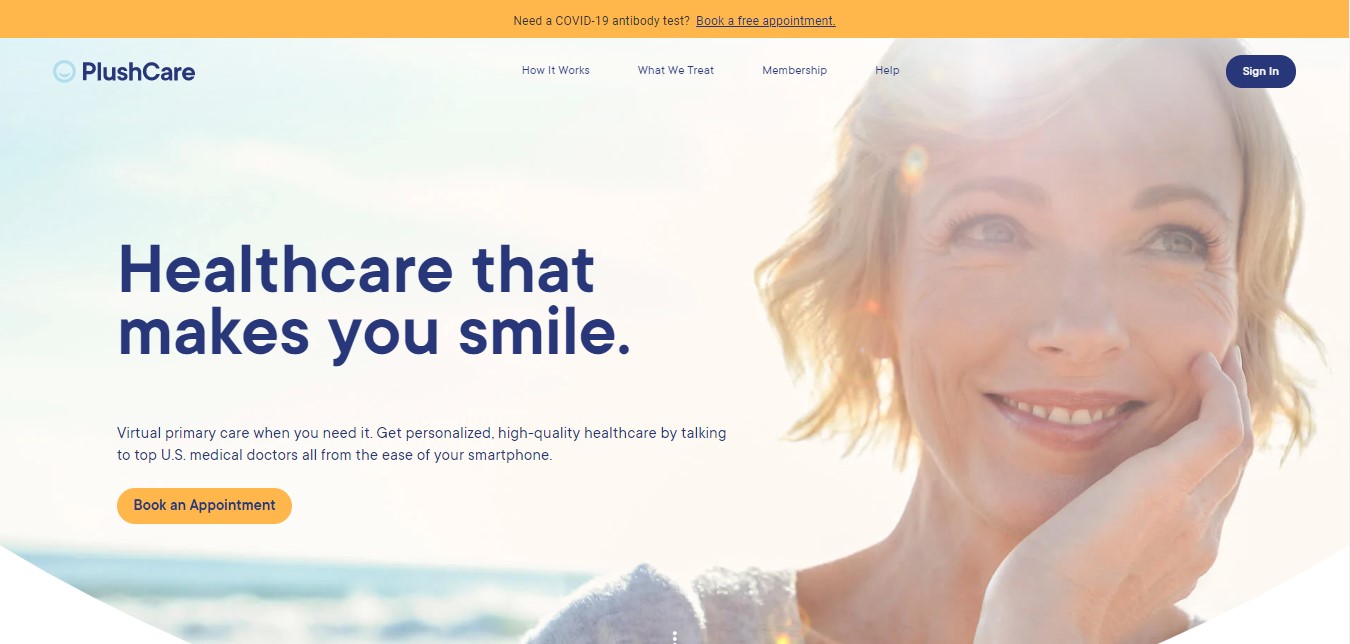 PlushCare is another telehealth platform that provides video chat exams with doctors all across the United States. 
PlushCare charges $99 for an appointment. While this fee is one of the steepest on this list, it's not so bad when you consider that PlushCare accepts most major health insurance plans. 
All physicians on the platform are highly qualified and licensed doctors. PlushCare allows patients to make same-day and same-week appointments (that can be booked anytime, day or night). Appointments usually last for 10-to-15 minutes. 
PlushCare doctors can also order lab tests and write prescriptions (if needed). The company partners nationally-recognized labs, and once your results are delivered, your PlushCare physician will follow-up with you almost immediately. 
PlushCare also offers testing for general health conditions, such as respiratory allergies, STD, and HIV testing.
Advantages of PlushCare
PlushCare doesn't charge a monthly fee and only charges patients for each a-la-carte appointment. 
It charges a per-visit flat-rate fee that includes the cost of prescriptions. The price you see is the price you pay, and you'll never be charged for additional fees. PlushCare also offers a money-back guarantee. 
PlushCare partners with major clinical laboratories like LabCorp and Quest Diagnostics, ensuring you'll have convenient access to lab testing. 
Disadvantages of PlushCare
PlushCare charges $99 per visit, which is higher than some of the other telemedicine service providers. 
Also, PlushCare appointments only last for 10-to-15 minutes (on average). With the appointment-only model of PlushCare, wait times might be longer than with other online providers offering on-demand care. 
Most doctor's appointments are only available through video chat, and the platform doesn't provide follow-ups or allow emailing or texting with doctors.