Online Doctor Reviews 2020
Online doctors are professional and certified doctors who choose to practice online by consulting people through phone, text, or video appointments instead of in-person appointments. Online doctors are as qualified as regular doctors you go and consult. According to a health consumer survey done by Accenture back in 2017, 70% of people are willing to try online health care services.
Due to the rising population and people being able to dedicate less time to their care, there is an increasing demand for quality medical care. Urgent care centers and primary healthcare systems are not able to fulfill the rise in demand. Thus, fueled by rising usage of technology in all spheres of life, the online doctor consultation market is expected to rise. Furthermore, the increasing cost to start their practice, doctors are seen to be more inclined to work as an online doctor because the platform helps them connect with more patients.


Why Use An Online Doctor?
Online doctor and medical services can help users in many ways and are curated to cater to a large segment of people. The most beneficial aspect of online consultation is the cost-benefit it brings along with the convenience of getting the best consultation at the comfort of your home. If you are worried you won't like it, don't be, 98 percent of people who have experienced online consultation from a doctor have given their vote of approval to the online consultation. There is a wide range of advantages of online doctor and online medical services:
There is No Need to Travel

Every time you take an appointment with your doctor, you have to travel to their office. With online consultation, there is no need to go to seek consultation from a professional and certified medical counselor. Your doctor is just a phone call, video call, or text away from you. You can speak to your doctor without needing to move from your seat.

No need to travel especially becomes essential in cases where there is limited mobility or restricted mobility due to an underlying health condition. Not only that, but it is also helpful for those who have a busy schedule because of their work commitments.

Better Way to Check your Symptoms
The moment we feel something is not right; this is not how I am supposed to feel or see you. A symptom that you are not able to understand the first thing most of us tend to do is go online and research it. We might end up over or underestimating our symptoms as there is no way to validate our inference unless you seek professional advice. Online Doctor and Medical care can help you identify your signs clearly and further assist you with the right protocol to treat them.

Online Doctor Saves Money
Online doctors and medical services tend to be inexpensive compared to traditional ways of getting medical care. According to research conducted by a health affairs journal, online doctors and medical facilities can help you save up to $88 each time you see a doctor. That is $1056 per year in savings if you see your doctor once in a month.

The cost of having an online consultation when you don't have health insurance is meager compared with traditional ways. An average to visit a doctor can cost you anywhere, starting from $120, whereas online doctor consultation is as low as $40.
Privacy and Security
When you visit a doctor, all your records are given to their staff. All the backend work has to be done by someone, and that is done by their backend staff, which increases the chances of your data/information theft as we rely on humans. Moreover, when you walk into a doctor's office for a consultation on diseases like STDs or mental health therapy sessions, you would want to keep your appointment private to yourself.
Online doctor and medical care services comply with the HIPPA(Health Insurance Portability and Accountability Act), which makes sure that all your data is safe. Second, most of the online doctor and medical care services deploy end to end encryption to protect your data. Third, most of the data management work is done by computers, which reduces the chance of data leakage.
Convenient and Comfortable
Imagine you are traveling to a developing nation for work or traveling intercity, a full-time mother, or a differently-abled person, wouldn't it be great to have a doctor with you with just a push of a button. By reducing the time required to travel and wait for your appointment to be taken up, you lose a lot of time, and for some, it might not be that convenient given their busy schedules. Plus, the comfort of your home or the fact that your doctor travels with you anywhere you go if comforting and convenient.


Can Online Doctors Write a Prescription?
Yes, Online Doctors can write a prescription.
Online doctors and online medical care platforms are creating a much more efficient and legal process for getting consultation from a professional doctor and getting prescription treatment online. Following the diagnosis from your online doctor consultation, based on the conclusion your doctor comes to, they can prescribe medication for treatment or simply recommend ways to symptom management at home.
The process of getting a prescription from an online doctor is generally the same across all the online doctor companies.
Step 1:

You sign up on their platform and book your appointment

Step 2:

You consult with your online doctor the same way as you would in person discussing your symptoms, medical history and ask questions

Step 3:

Based on the diagnosis, your doctor will write you a prescription

Step 4:

You visit your nearest pharmacy and get medication. Some companies also send medicines directly to your home.
Laws Regarding Prescriptions Online
While doctors across the globe give an online prescription, the laws that govern them are country-specific. The country needs to make sure that the rules created by its drug controlling authorities are adhered to by online consultation companies. Moreover, some laws govern these services in each state, adhering to the rules of the state.
Laws are revolving around the types of medication you can receive from an online service provider. Stimulants, narcotics, and relievers are not legally available via online consultation.


Common Conditions Treated by Online Doctors
Online doctor and medical care can be used to treat a wide range of conditions, from mental health issues to primary care conditions and urgent care (non-emergency) conditions.
Some Primary Care Conditions that can be treated by an online doctor:
Allergies

Asthma

Mental Health conditions

HIV (PrEP)

High Blood pressure

High cholesterol

Thyroid disorders

Migraines

Diabetes

Erectile dysfunction

Birth control

Acne
Some Urgent Care (non-emergency) Conditions that can be treated by an online doctor:
Yeast infections

Urinary tract infections

Sinus infections

Gout

Rashes

Tonsillitis

HIV post-exposure prophylaxis (PEP)

Bronchitis

Dental infection

Pink eye

Cellulitis

Vaginitis

Strep throat

Pneumonia

Headaches

Ear infections

Stomach issues

Respiratory tract infections
Guide to Choosing the right Online Doctor Platform
Before zeroing out on the online doctor or online medical platform, you want to consult with there are some factors you should consider and learn about:
Cost of Online Doctor Consultation
The cost of services provided by these platforms is different from each other. At the core, they all are providing online doctor consultation and medical care. Still, in essence, they all use different pricing structures to cater to different segments of the audience, which means that for some people, one structure might be more beneficial than the other one based on their requirements.
Some websites have a monthly based subscription (which makes a lot of sense for ongoing treatments); some websites have minute based pricing (makes a lot of sense for quick consultations), and some websites have priced them on a per consultation basis (ideal for primary health care). Some websites even offer all three types of pricing models, so it makes sense if you check them out thoroughly and then make a decision.
The Right Specialty and Experience of Online Doctor
When you seek consultation from a doctor, you should always consider their specialty and area of expertise before you start consulting with them. All the online doctor platforms present the list of doctors impaneled on their platform along with their educational and experiential background. You should go through them to see if they have good doctors providing their consultation in the area where you are seeking help.
The good thing about online doctor platforms is that they have a backend team that takes up your request and starts matching your requirement with their impaneled doctor to match with the most suitable doctor.
Ease of Starting Online Consultation
Usually, it's a three-step process to start a consultation with your online doctor, which starts with having your account registered on their platform. But it is more about how easy it is to connect with your online doctor in case you need urgent or regular advice from your doctor. For example, you are undergoing a treatment prescribed by your online doctor, and you have some questions you want to ask, in that case, you shouldn't be asked to fill forms or request for a callback. The process of connecting with your doctor should be easy and quick.
To provide great experience and access to quick consultation from your online doctor platforms have created their mobile application, which is provided to both the user and the doctor making it easier to connect them both.
Medium of Communication
The online doctor and medical care platform work in different ways when it comes to communicating with your doctor. Some platforms work on chat-based platforms; some work on a telephone-based conversation with your doctor, and most operate on real-time face-to-face online video calls between the doctor and the patient. So, this depends highly on the user as to how they want to connect with their doctor.
Privacy and Security
When you consult with your doctor online, there is a lot of information that is shared between both parties. Information includes your personal information like name, address, etc. and your medical information like your test reports, medical history, and details of the diseases you are being treated for. Thus it becomes very important to have a platform that is secure and keeps your information private.
You should check if the platform is compliant with regulatory bodies that govern information security and privacy policies. Since the platforms operate on the world wide web, you should also check if they follow best practices to protect your data.
Insurance Policies
Although most health insurance does not cover online doctor consultation, you should perform proper due diligence before you start taking online consultation. You should check if your insurance covers online consultation from the provider of your choice, if yes, what are conditions if any. What is the amount they will reimburse for each consultation call and if they would take co-payments?


Is Online Doctor Covered Under Health Insurance?
At the moment, there are no set standards for private health insurance providers in terms of online doctor and online medical care. However, some health insurance companies understand the merit behind online consultation and have covered it under their health insurance. In contrast, some are still considering the idea of adding online consultation under their coverage. Some health insurance companies have limited or restricted coverage for online consultation under their policies hence required prior approval before reimbursement of medical expenses.
Can an online doctor and online medical care be used with global reimbursements? Yes, global reimbursement is single payments made towards your health insurance for coverage of conditions or events which might occur while you are traveling to other countries. The advantage with global reimbursements is the flexibility that health insurance provides to the provider as to how they deliver their services, allowing access to the online doctor whenever appropriate. This reduces the operating cost that comes with in-person appointments, thus preferred by health insurance companies.
What to do if you don't have Health Insurance?
To those who don't have medical insurance, seeking medical care could feel like a daunting task and out of budget. But the good news is that online doctors and medical care services have options for patients without medical insurance. Some medical providers offer services for people who don't have health insurance where bills can be negotiated, and special discounts are made available. Federal funding also helps keep the cost of medical health care down.
The average cost of seeing a doctor without health insurance is between $300-$600. Having consultation from an online doctor is a great way of keeping the cost down for both urgent and primary health care. Without any health insurance, the cost of seeing a doctor can be as low as $99, where you can save hundreds of dollars compared to an in-person visit.
During your online consultation with the doctor, you will talk about your symptoms, your medical history, and discuss treatment plans with your doctor. Your online doctor will then provide you the most affordable treatment options. Some companies even claim that if their doctor is not able to treat you online, your appointment fees will be returned, which is a great benefit for people without health insurance.


When not to consider an Online Doctor?
Please understand that there is a difference between urgent care and emergency care. Some situations are too severe for either urgent care clinics or primary care doctors. In situations where you need immediate attention, please call 911 or local emergency helpline number. Some emergencies where you should seek immediate help from experts.
Shortness of breath

Chest pain

Severe cut or broken bone

Head or eye injury

Sudden and severe headache

Symptoms of a stroke or heart attack

Severe allergic reaction (anaphylaxis)

Severe and persistent vomiting or diarrhea

A condition you may need to be hospitalized for

Confusion, altered mental state, suicidal thoughts
Best Online Doctor Companies
DoctorOnDemand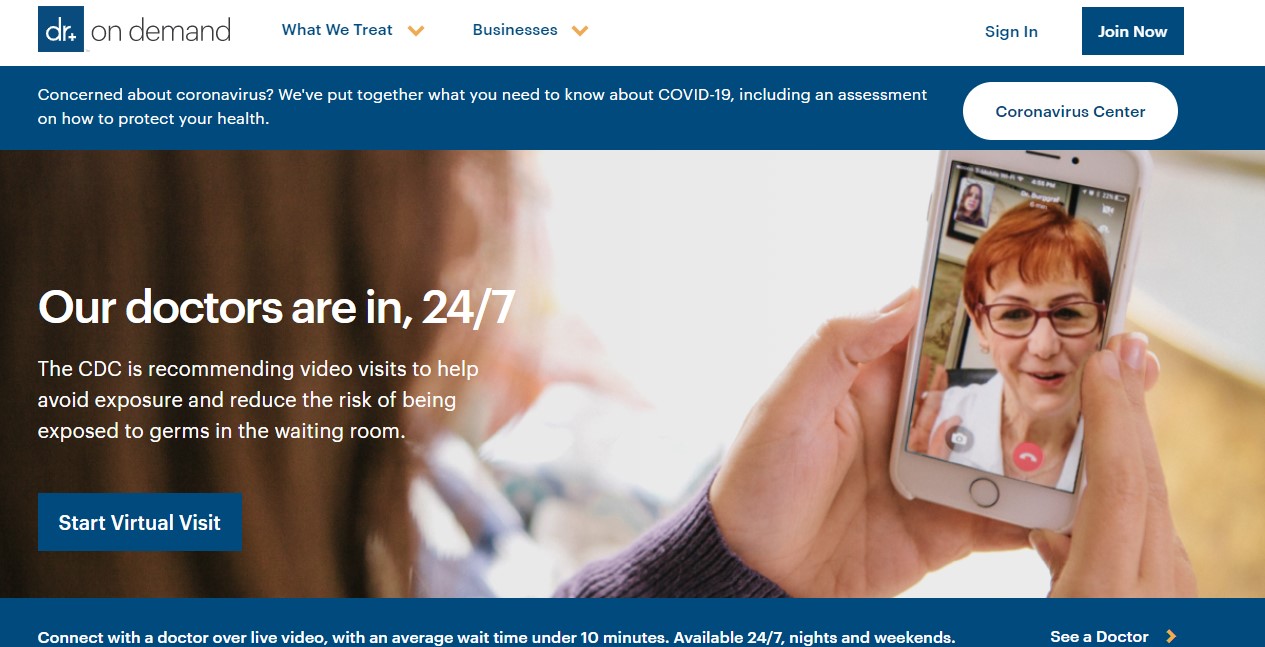 DoctorsOnDemand is an on-demand doctor service where doctors are available 24/7 who can help you with primary health care conditions like flu, cold, etc. DoctorsOnDemand not only has on-demand doctors, but you can also schedule a consultation call for a later time which is more convenient for you. Founded by Dr. Phil McGraw (A celebrity psychologist and tv personality) along with his son Jay McGraw in their headquarters based out of San Francisco back in 2013. While you go and book a consultation call for a later time, you have the choice of choosing the doctor you want to consult. In contrast, if you're going to consult a doctor on the immediate requirement, you would be counseled by the next available doctor. You can join DoctorOnDemand free of cost, and they have flat rates for consultation calls. Their fees are very economical for those who do not have health insurance and are currently accepting health insurance from some providers. Apart from that, they have some tremendously generous coupon codes as well, which you can access via their website, employers, and some coupon platforms.
Advantages of DoctorOnDemand
There are many advantages of DoctorOnDemand, which starts with the option to set up your account free of cost irrespective of the fact you have health insurance or not. They have a clear pricing structure, which starts with $75 per consultation and applies to both who have health insurance and for those who don't. They accept health insurance from major providers like UnitedHealthcare and Humana. DoctorOnDemand gives you complete freedom in selecting what works better for you, on-demand consultation calls, or pre-scheduled calls with your doctor. In addition to primary health care services, they also provide mental healthcare services.
Disadvantages of DoctorOnDemand
Their flat pricing of $75 per consultation call is restricted to a 15 minutes conversation only, and if you want to extend your call, you need to pay extra for that. If you're going to choose the doctor you want to consult with immediately selectively, you can't do that. You will only get a consultation from a doctor that is next in line to consult patients. Since there is no fixed doctor you would be consulting, DoctorOnDemand might not be the right platform to get treatment for illnesses that take time to cure as it would be difficult for you to share the results of the lab test and get their feedback on the same.
BetterHelp.com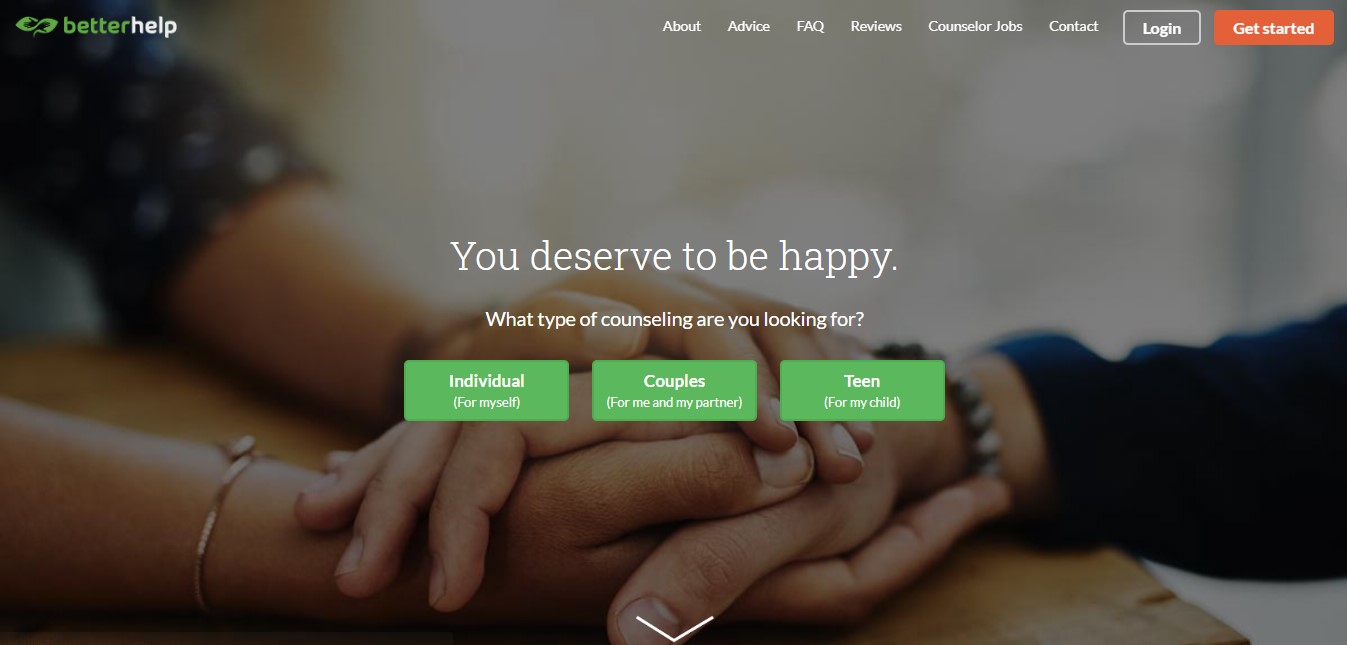 BetterHelp was founded back in 2013 and is now the number one online therapy platform in the united states. BetterHelp has over 5000 impaneled licensed professionals having extensive experience in helping people to cope up with mental health. Due to their impressive growth, they were soon taken over by Teledoc, the largest healthcare provider in the united states. With the help of Teladoc, BetterHelp has been engaged in improvising their services and reaching out to more people across the united states of America. Once you join BetterHelp, their trained staff will find the most suitable therapist suited to your requirement and connect you with them. All the online counselors are trained professionals, accredited by the respective authorities. To facilitate a more comfortable platform for connecting with your counselor, at BetterHelp, you communicate with your counselor via text messaging, live chat, voice chat, or video conferencing. Patients are not restricted to one medium of communication. The cost of e-counseling with BetterHelp starts at $40 to &70 per week, and it all depends on the therapist you want to take counseling from. The pricing also depends on your preferred medium of communication.
Advantages of BetterHelp.com
The fact that you can communicate with your therapist either via text, live chat, voice chat, or video call makes it easier for anyone to start taking counseling from a trained professional. All the communication takes place through a secure server, which keeps your information protected and is open 24/7 so that you can connect with your counselor anytime you want. When you sign up on BetterHelp, their team connects you with the most suitable therapist working under their panel, and it usually takes less than 24 hours for them to connect you with your counselor. Which means you don't have to wait long to talk to your counselor. In case you find your counselor not to be the right fit, you can choose to be matched with some other counselor, which ensures your therapy continues without any abruption. Patients can pay a flat fee of $65 to avail of unlimited sessions with their counselor.
Disadvantages of BetterHelp.com
Most of the top health insurance companies like Medicare and Medicaid are still not covering BetterHelp under their coverage. That means you would have to pay for the therapy sessions out of your pocket. Their pricing structure reflects a weekly fee structure, but you have to pay for one entire month at one time, so you have to commit at least that much. Counselors at BetterHelp are not qualified to provide you a prescription for mental health issues and are not authorized to fulfill court-ordered counseling.


First Opinion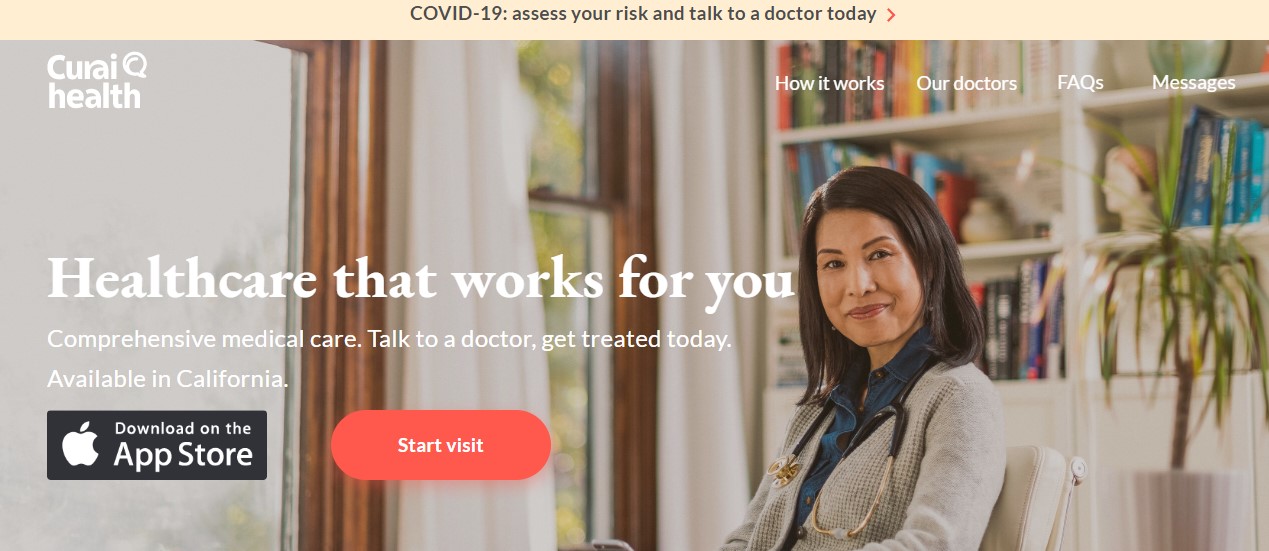 First Opinion is a unique service in the area of online therapy as it does not provide actual counseling sessions and work as your point of contact to get opinions regarding your health. First Opinion is an entirely free service that is operating 24 hours a day and seven days a week, consisting of a qualified team known as a matched doctor team(MDT). Through this platform, you can ask questions regarding your health or in between your primary care physicians' appointments. First Opinion is a restricted messaging service only where there is no option to connect with the doctor either on voice or video chat. You cannot even get a sick note from your doctor to show at school or work. But they can help you understand your symptoms, help you through your treatment, and also advise you to see a doctor when necessary.
Advantages of First Opinion
First Opinion is a 100% free online doctor consultation service even though it is not an actual consultation you can get great advice from the team of doctors at First Opinion. You don't have to worry about insurance and billing because you don't have to pay anything to the doctor for their piece of advice. First Opinion is operational 24/7, which makes it convenient for anyone to get medical opinions anytime. There is no limit to the number of questions that you can ask their medical team. When you sign up on their platform, you are connected with a group of doctors that are led by a primary clinic director. The simple process takes less than a minute, and every time you log into your account, you are counseled by the same team of doctors. Having a team of doctors there to share their opinions with you means you get the right answers, usually within just five minutes.
Disadvantages of First Opinion
The most significant disadvantage of First Opinion is the fact that it is only a messaging service. For patients who are seeking an actual medical examination followed up by a proper diagnostic process, including lab tests and then getting a prescription or sick notes, First Opinion is not the right platform for them. First Opinion is only available for iPhones, which means that android users are not able to access their services. Since you are connected to a team of doctors, there isn't much scope for personalization in this scenario as they are only matching your profile with a group of doctors based on the necessary information that you provide to the platform at the time of signing up with them.


Teladoc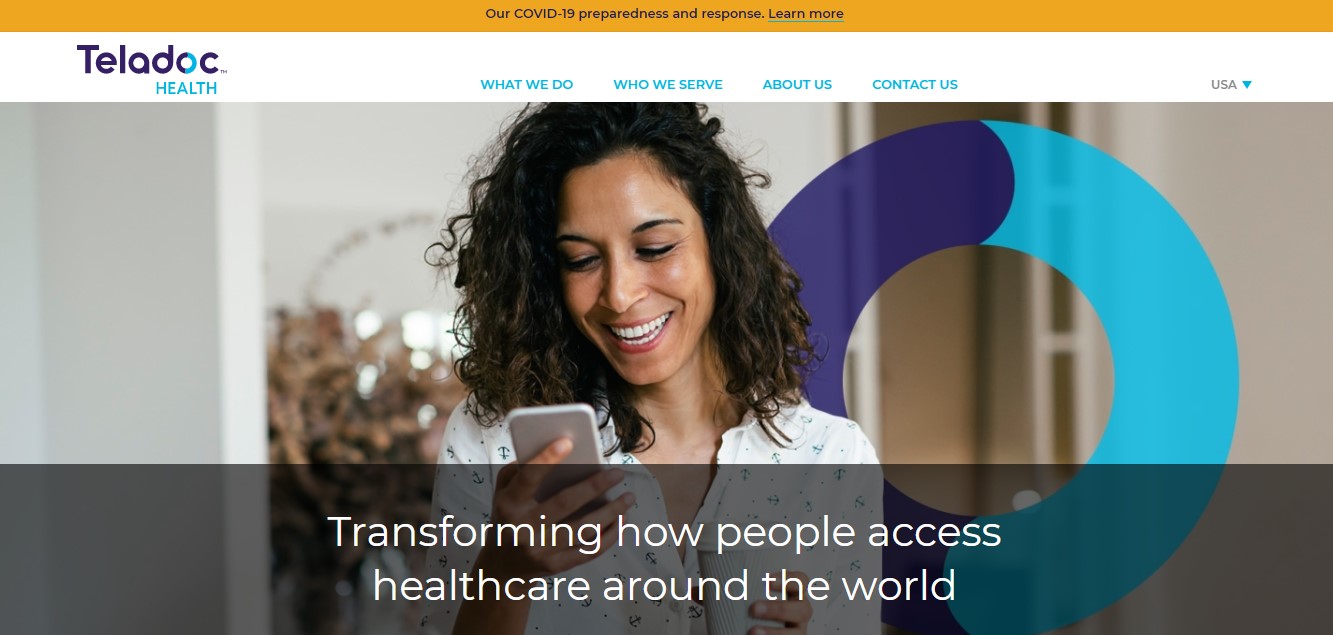 Online doctor and medical care services operate on different fundamental concepts that cater to different sets of audiences. Teladoc is not like many online doctor websites that provide primary health care services, replacing your primary care physician. Teladoc is a service that offers immediate health care services for common medical conditions like cold, flu, rash, or a minor injury where you require care from a doctor sooner than you would be able to get to a primary care physician's office. It is easy to start online consultation with your doctor at Teladoc, where the process begins with creating your account on their website or mobile app and then requesting an appointment. You can either have a proper phone call with your online doctor or a video call with your doctor. The choice is yours, whether you want to have an immediate call or want to schedule a request for a later time.
Advantages of Teladoc
With Teladoc, you don't have to wait for an appointment to see your primary care physician or wait at urgent care to speak with your doctor. With Teladoc, you can do that in just a matter of minutes. Teladoc is available both on your mobile phones as an application and as a website, so it becomes easy for anyone to access their platform. With Teladoc, you can schedule an appointment as soon as possible, or you can also request a date to be scheduled at a time that is convenient for you. There is no time limit set by Teladoc for when you are speaking with your doctor on the phone, and you don't have to rush while chatting with your doctor and have a meaningful conversation with them.
Disadvantages of Teladoc
At Teladoc, you don't have the choice to choose your doctor, and rather you are connected with the doctor that is next in line to consult patients. If you are seeking medical care for an illness that requires more than a consultation call or you are a repeat user of the application, chances are you might not see the same doctor again since there is no way to put up such a request. There is no clear information available for pricing, which makes it difficult to understand for people new to the Teladoc and might feel hesitant to take their services. Even if your Teladoc doctor is not able to help you out and advises you to see a primary care physician or to visit emergency care, you still have to pay for the call.
Amwell (AmericanWell)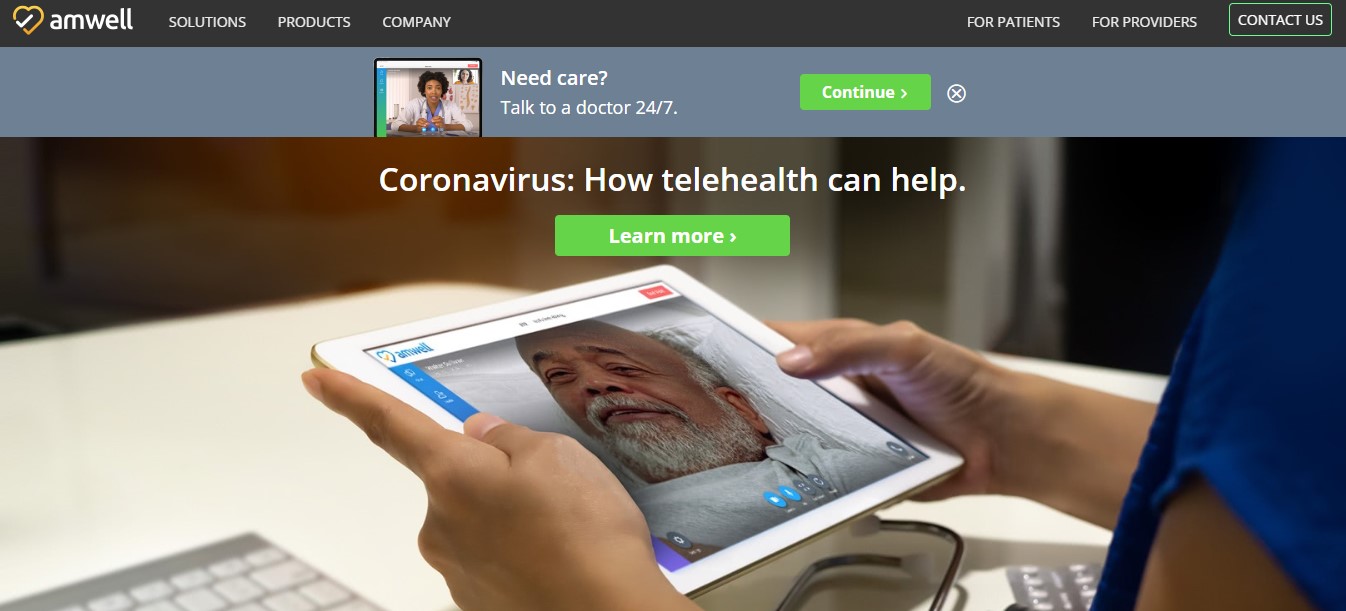 Amwell is one such platform where you can speak with an online physician right away. It is easy to get started with Amwell, you create your account and provide details of your requirements. Post that, you will be asked to wait in a virtual waiting room before you see your doctor via an online call. Usually, it takes only a few minutes before you start online consultation with your doctor. A typical call with Amwell's online doctor lasts about 10 minutes as the intention is not to replace your primary care physician but to supplement them. The cost of urgent care with Amwell is only $69 per consultation call if you are uninsured and you only have to pay a copay if you have a participating health policy. With Amwell you can have an online consultation with a doctor who can write a prescription to you and share that with you via electronic communication. They can also send the same to your local pharmacy who then supplies the medicine directly to your doorstep. In addition to primary health care consultation, you can also speak with a mental health therapist, psychiatrist, dermatologist, cardiologist, and other experts of their fields.
Advantages of Amwell
Amwell is very cost-effective compared with your primary health care provider with Amwell sitting at $69 per consultation and office visit to a primary health care provider costing at $139(average). Patients Who have copayment insurance only have to pay a fraction of this cost. Amwell provides a more comprehensive offering as they also have specialists in nine different fields other than primary care. Online doctors at Amwell have the liberty to provide you with a prescription if they find it appropriate. All the services provided by Amwell are on-demand services which means you don't have to wait to consult a doctor and you get immediate attention to your issues.
Disadvantages of Amwell
Since Amwell is an on-demand service, you cannot schedule consultation calls with a doctor for later. You have to wait until you have time to speak with your doctor and then wait for them to be available to speak with you. Amwell has a price for consultation calls that is $69, but that is not applicable to all of their doctors. Some specialists and experienced doctors are charging up to $199 per consultation call. Urgent care appointments with Amwell only last up to 10 minutes, which means you have to rush during your conversation which might result in an unclear conversation.
SteadyMD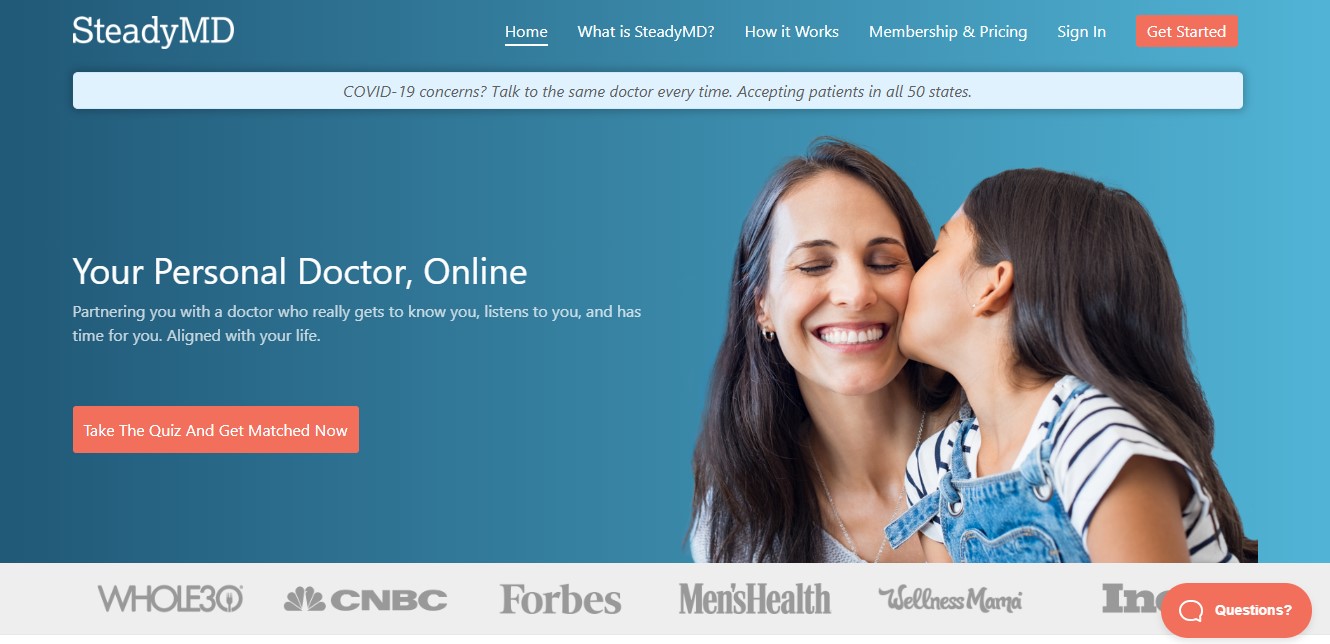 With an entirely new approach to primary care, SteadyMD has stood as an online doctor and medical services. SteadyMD, with its fully online service, has replaced the traditional physicians. SteadyMD gives you an option to choose a doctor of your choice each time you visit. Therefore, for different medical issues, you may opt for a different doctor. All the doctors at SteadyMD are qualified the same as a traditional general physician. SteadyMD offers membership at a flat $69 per patient and $169 for a family; this makes it an affordable choice as well. SteadyMD being an online medical service provider gives you the convenience of your home and saves time and money from your travel to visit a doctor. An often use of their services can save even more money than usual, imagine the cost of co-payments with a traditional doctor.
To start with, SteadyMD first signs up to create an account. Once you create an account and have a doctor of your choice, you can have a video chat with your doctor within one or two days. Typically, you can have a video chat for one hour to discuss your medical issues with the doctor assigned for you. Doctors at SteadyMD are friendly; they usually begin with knowing their patient, so you can discuss your lifestyle, medical history, if any, along with existing medical issues. In case some of the questions left unanswered after your first interaction, you can connect with your doctor again the same day with SteadyMD, which is very unlikely to happen in other telemedicine platforms. You can also text your doctor or call them if required. To maintain this high level of patient care, doctors of SteadyMD have as few as 200 to 400 patients in total instead of trying to juggle between thousands of them at once.
Advantages of SteadyMD
One of the main advantages is that you get a prescription at the comfort of your home. Patients can also enjoy unlimited text and calls with the doctors. SteadyMD collects and integrates all your health records to create a compressive report on your health. This gives a holistic view of your health to the doctor and helps them in giving better treatment. The most interesting thing about this whole process is that the integration of your health records also includes data from any fitness apps that you are using. In case the doctor you are interacting with is not available due to any reason, the other doctors of SteadyMD will step in and connect with you. This is not possible in a traditional setup if a doctor is not available in a traditional setup, then you might have to struggle to find a new one. You can also see the doctor's profile for yourself. For example, being a parent, you can find a doctor who is also a parent and who connects with you on a personal level.
Disadvantages of SteadyMD
SteadyMD has a subscription-based model, which may not be as cost-effective for patients looking for tine time treatment. They also require you to finish a one-year membership and the contract that comes with it, even if you don't find the service a suitable option for yourself. Sometimes it can take one or two days to set up your first appointment with the doctor, so patients who are looking for immediate consultation might not find it very appropriate as per the need.
MDLIVE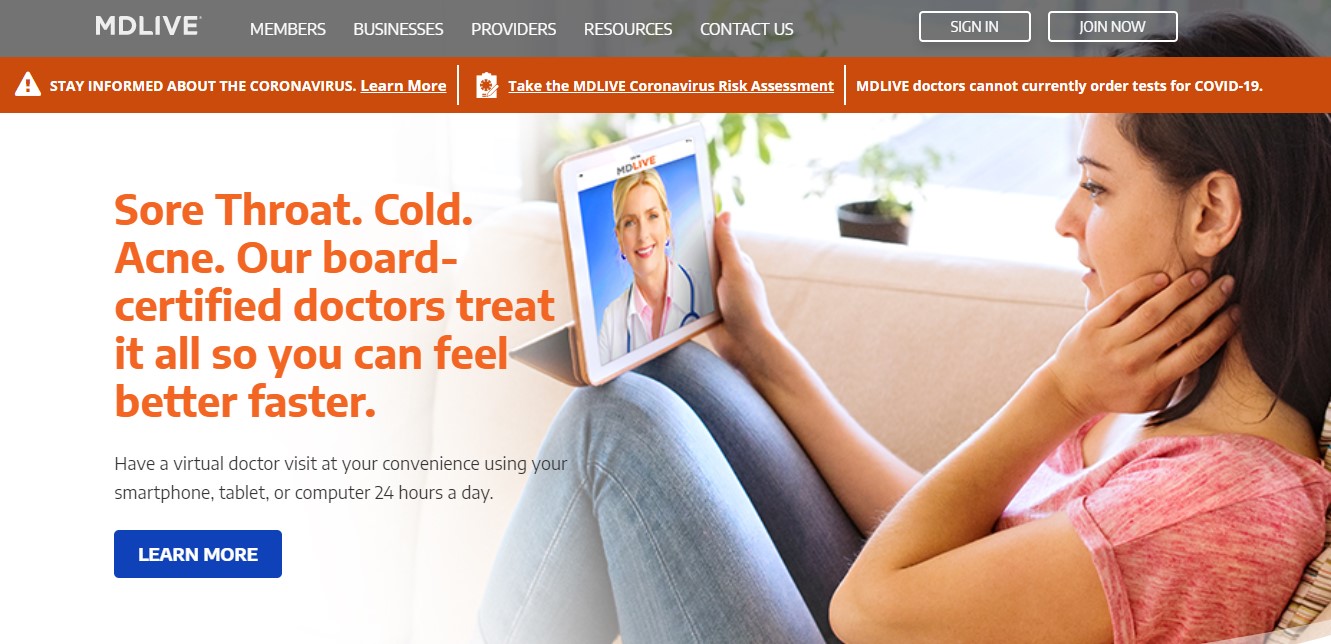 MDLIVE is a telemedicine provider that makes it easy for you to visit a doctor within minutes through their app, online, or by phone. If you are looking for urgent care, dermatologist, behavioral healthcare, or a physician, then MDLIVE is the answer. Many of us have busy lives, and we neglect our health issues simply because we don't have time to fit a doctor's appointment into our calendar. MDLIVE allows you to book an appointment with the doctors 24 hours a day and seven days a week at the comfort of your home.
Usually, it takes more time to fill out a doctor's form in a traditional setup; then it takes to get an appointment with your doctor at MDLIVE. Once you register for free, a doctor can connect with you as early as within 15 minutes. MDLIVE has more than 27 million members. Once you become a member of MDLIVE, you can have your own network of doctors and can have a doctor of your choice to consult a particular medical issue. You can also opt for an on-demand video or phone visit within 15 minutes, MDLIVE has different pricing for various treatments. To start with, you can book an appointment with a dermatologist at just $69. The urgent care is priced at $75 and counseling at $99. You can also see an online therapist with MDLIVE; for the first appointment, you will have to pay $259 and $99 for follow-up appointments thereafter. Patients with medical insurance may even have to pay less than this.
Advantages of MDLIVE
One of the major advantages of MDLIVE is that you can get almost an immediate appointment by signing up for free with no subscription charges. Since there are no membership charges involved, so you only pay for the care you need. If you don't need an immediate appointment, then you can book an appointment as per your comfort. MDLIVE provides a free iPhone and Android app to make it convenient for you to see their doctors online. MDLIVE is a HIPAA compliant, which means your medical records are safe with them and is also accessible to the hearing-impaired. All the physicians are qualified, and you can pick a physician of your choice. The physician will also write a prescription if needed, and send it directly to your pharmacy.
Disadvantages of MDLIVE
The doctor's appointment at MDLIVE only lasted for about 15 minutes. Their prices per service can be higher than some of the competitors, but looking at the fast service and cost of visiting an emergency room, for instance, MDLIVE is still affordable. For video conferencing with the physician, your computer might have to meet some technical requirements.
Sherpaa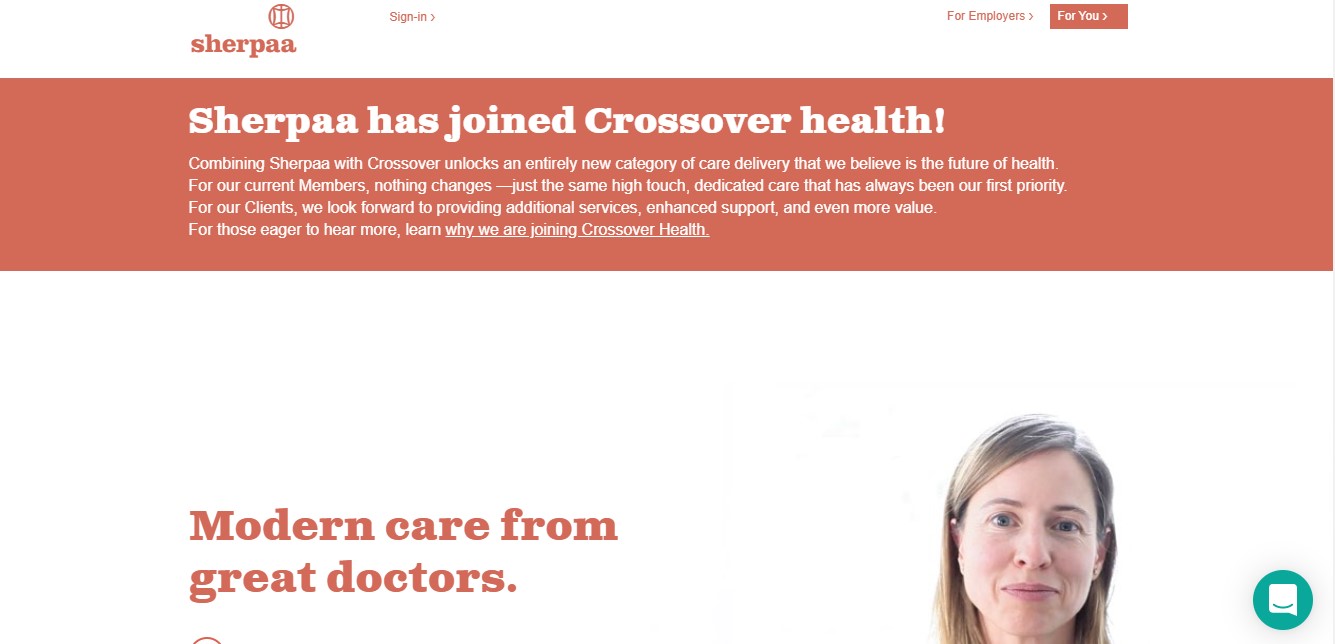 Sherpaa is an easy way to get care at home. With their membership model of online medicine, you can connect with a physician through your smartphones. Sherpaa is a team of experienced doctors who can help for almost 1500 simple to complicated issues. When you join Sherpaa, it requires a membership fee, but on the brighter side, you get an unlimited, 24/7 care from their doctors. Sherpaa considers that as much as almost 70 percent of medical issues related to primary care can be treated online with good communication and asking the right questions to the patient. Their doctors can also order laboratory tests and imaging testing, along with medicine prescriptions, if needed. To start with, you can visit Sherpaa and receive one-month unlimited care for $99. You can also enroll in a one-year basic unlimited care plan for $ 270, which gives you benefits of unlimited service, second opinions, specialists' referrals, access to prescriptions and test results all in your mobile app. You will always work the same team of doctors who will be available within minutes to keep your comfort and peace of mind.
Advantages of Sherpaa
Sherpa gives you an option to either take one-month membership for a short – term consultation or if you need to doctor consultation more than once a year, then you can opt for a one-year membership. The membership fee at Sherpaa is still much more affordable than the cost of most of the typical emergency rooms. Sherpa considers itself as virtual primary care, not a telemedicine provider. Doctors at Sherpaa can work with a wide range of simple to complex medical conditions. You can work with the same doctor every time. Also, your interaction with the doctor is not limited to 10-15 minutes only. Once the care has started, you can have unlimited access to your doctor via phone can or messaging. A Sherpaa doctor can also order a laboratory test and can easily interpret them just like your traditional physician. Best of all, you get on-demand medical care with Sherpaa, where you don't have to schedule a prior appointment. Once you send the message about your health issue, your team of doctors will come back to you at the earliest.
Disadvantages of Sherpaa
One disadvantage with Sherpaa is that if you want more benefits beyond what a basic membership provides, then you will have to pay more. The two other tires of memberships are the Plus membership, which costs $400 and the Extra membership, which costs $900 per year. The subscription model is more expensive for patients who do not require medical care all around the year. Sherpaa membership is not covered in insurance cover, although your lab tests and other diagnostic tests may cover in the insurance. Sherpaa provides most of its care via messaging or an occasional phone call; this may not be a suitable choice for those who need to connect more via a video chat with their doctors. Also, you do not get a choice to pick your own doctor. Instead, you will be assigned to a team of 5 to 7 doctors who will provide you with medical care.
LiveHealth Online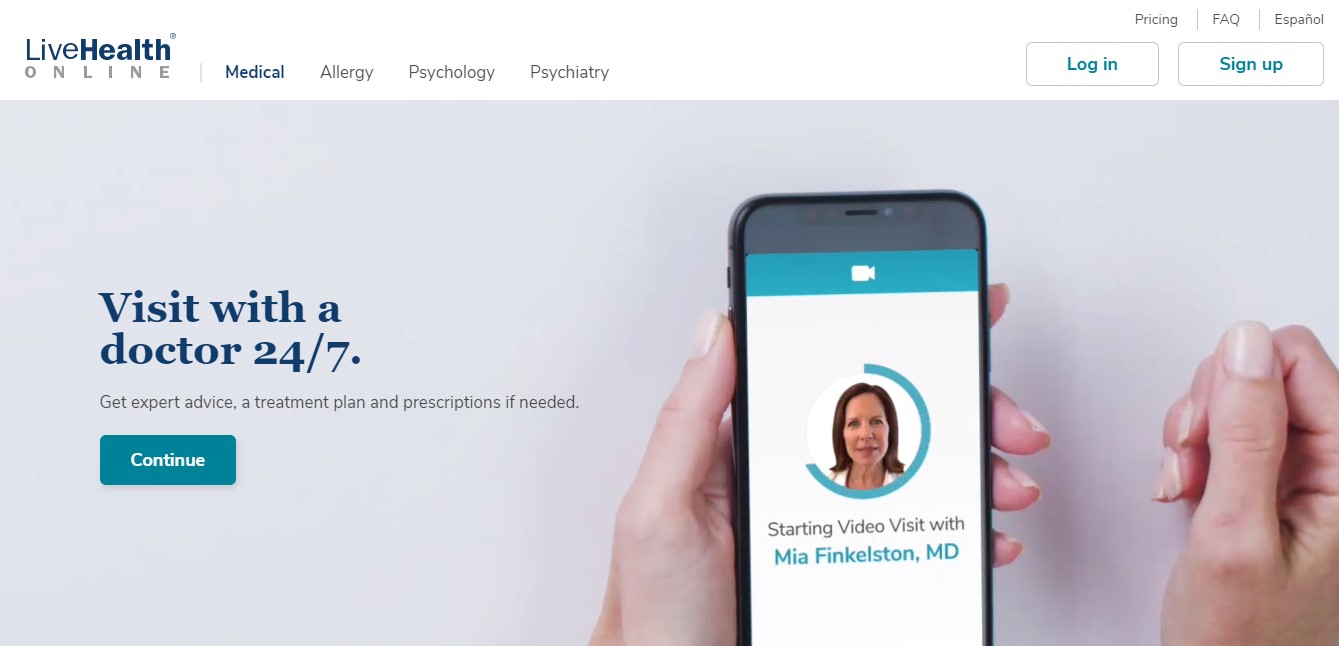 LiveHealth Online is an online medical service provider that offers on-demand doctor consultation for general medicine 24 hours a day. It is one of the most affordable telemedicine providers on the list that provides general medicine and urgent care video appointments at just $49. LiveHealth Online also accepts medical insurance from major insurance companies' plans like Amerigroup, Blue Cross Blue Shield, and more. There is no membership charged, and you can also look for care for issues like allergy and mental health via LiveHealth Online.
Advantages of LiveHealth Online
LiveHealth Online is a great choice for those who are looking for one-time medical assistance. There is no membership fee associated with LiveHealth Online; you can become a member online without paying any charges. Once you become a member, you only have to pay for issues you take service for. As mentioned above, it is one of the most affordable telemedicine providers, where you can get medical care for general medicine and allergies at just $ 49, and you can see a therapist for $80 and a psychologist at $ 95. They also provide you with an option to choose your own doctor based on the information provided, like their medical school, experience, specialty, and more. All the data from your past video exams are stored in your account, and you may choose to share whether to share this record with your doctor when consulting again in the future.
Disadvantages of LiveHealth Online
You can consult with doctors of LiveHealth Online for only 10-15 minutes. They give you an option to request a sick note for work or school and can later download it from your app or computer. But if you forget to ask for a sick note during your interaction with your doctor, then you can only request for a sick note by calling on their customer support helpline. Also, LiveHealth Online does not provide an option to call or message the doctor with additional concerns.
PlushCare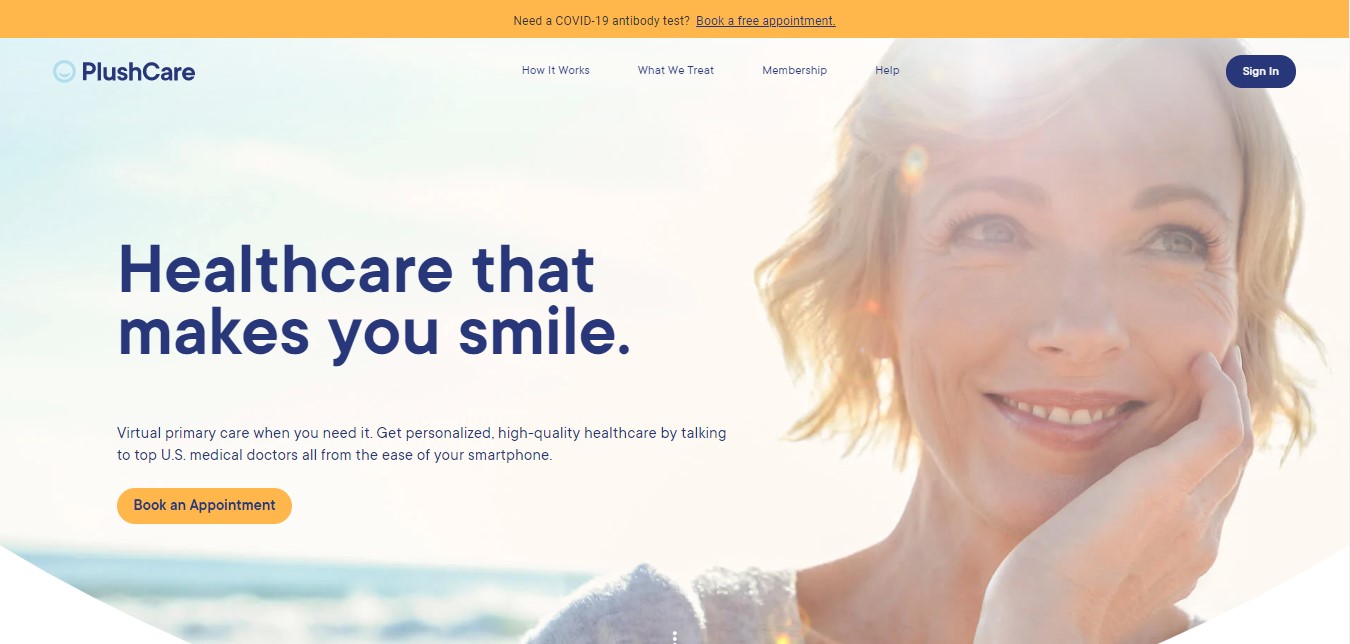 Plush care is another telehealth platform that provides video chat exams with doctors all across the United States. PlushCare charges $99 for each service that may look on the higher side as compared to other online medical services, but if you have insurance, then this cost can be lower as they accept most of the major insurance plans. The doctor service, on the other hand, is of high quality as all their physicians are highly qualified and licensed doctors. PlushCare allows you to connect with your doctor by making an appointment, unlike other on-demand services, and each session usually lasts for 10-15 minutes. You can book an appointment 24 hours a day. Usually, an appointment is available within a days' time or sometimes in a few hours as well. If you are looking for a doctor who can write a prescription, then PlushCare can prove to be a good choice. PlushCare doctors can also order a lab test if needed. They have partnered with some of the major laboratories, and once your results are delivered, your PlushCare physician will follow-up with you almost immediately. PlushCare also offers testing for general health like respiratory allergies, STD and HIV testing
Advantages of PlushCare
When you see the pricing structure of online doctor platforms, you find that most of them have a monthly or weekly subscription model, where you have to pay irrespective of your frequency of usage. But with PlushCare, you only pay when to take their services. They have a per-visit flat rate system where all the charges expect your prescription cost is included. The price you see is the price you pay. PlushCare gives you a money-back guarantee, and you will not be charged from your credit card until after your consultation is done. PlushCare is integrated with major clinical laboratories like LabCorp and Quest Diagnostics. This means you can easily get yourself tested if your doctor recommends you one and will also get cost benefits using PlushCare referrals.
Disadvantages of PlushCare
PlushCare services cost at $99 per visit, which is higher than some of the other telemedicine service providers. Also, PlushCare appointments only last for 10 – 15 minutes usually. With the appointment-only model of PlushCare, you might have to wait longer to get an appointment as compared to other online providers who provide on-demand care. Doctor appointments are usually offered as video calls and if you require to follow up later or missed to ask a thing, then connecting with your doctor through messages and emails is not an option.