Strut Review
Strut specializes in diagnosing sexual health, hormonal, and STI-related conditions on a safe and secure platform. Patients can receive a diagnosis within 24 hours, and prescriptions delivered discreetly within 48 hours. Offering patients a wide variety of products, Strut has something for everyone. 
Accepts
Does Not Accept Insurance
Table of content
Strut Review 
This sexual telehealthcare platform diagnoses patients and offers prescription medication and treatments mailed to patients' homes in discreet packaging. It offers sexual healthcare for both men and women, especially regarding issues that carry social stigmas. 
Patients can message online doctors at any time -- day or night. Clients can log on to the platform via the website or by phone.
Board-certified physicians evaluate your data and health information; if necessary, they write prescriptions filled via Strut's online pharmacy and mailed to patients within two business days. Patients can also choose to get their prescriptions filled at their home pharmacy or online pharmacy. 
Is Strut Right For You? 
Strut offers sexual health services that you can access from the privacy and comfort of your own home. Strut is for you if you suffer any of the following conditions:
Genital herpes
Hair loss
Thin nails
Premature ejaculation
Aging skin
This platform offers convenience and discretion. Services are marketed to anyone who:
Needs prescriptions for sexual health issues
Doesn't have time to head to a doctor's office during regular business hours
Feels uncomfortable filling prescriptions in a local pharmacy and wants discreet packaging and shipping
Suffers from vaginal numbness
Doesn't want to drive all the way to a doctor's office for an appointment that can easily take place virtually online
Strut is currently available for patients living in the following states:
AK, AZ, CO, CT, Wa. DC, FL, GA, IL, IN, LA, MD, MI, MO, MS, MT, NC, NJ, NV, NY, OH, PA, SC, TN, TX, WA, WI, WY
Is Strut Credible?
Strut was founded by Simal Patel, M.D. The platform only prescribes medicines from verified and accredited wholesale distributors that contain active FDA-approved ingredients.
All doctors are U.S.-licensed and board-certified. 
Doctors follow strict telemedicine guidelines and use secure chat, photos, and video calls to provide a diagnosis. They customize treatment plans to fit the needs of each patient to ensure safety. Doctors have full discretion over prescriptions. If they don't feel a drug is appropriate for a patient, the prescription may be denied.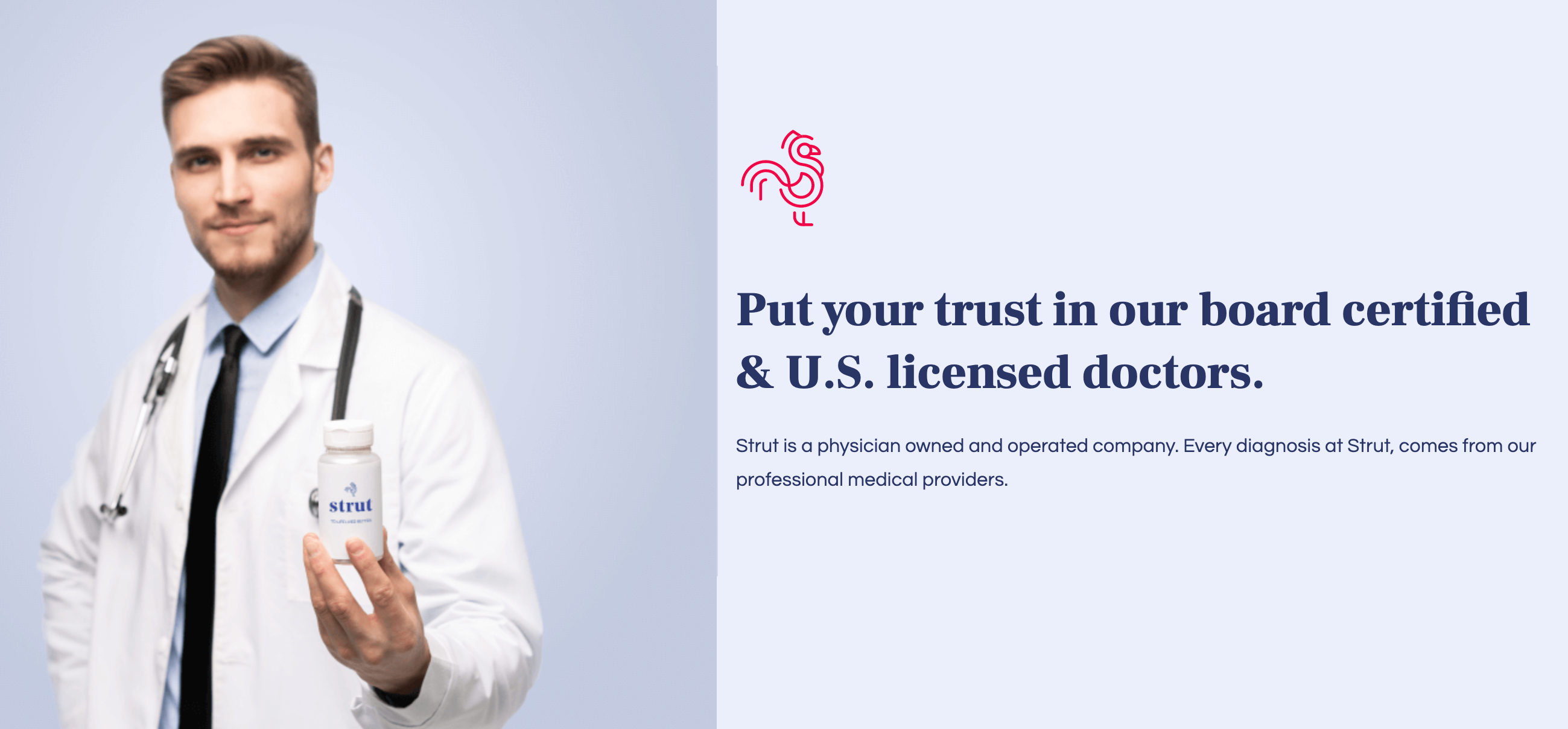 Healthcare Conditions Treated by Strut  
Strut treats a solid list of men's and women's health conditions, including:
Cold Sores
Erectile Dysfunction
Hair and Nail care
Sexual Health
How Does Strut Work?
Get a prescription and start feeling better in only three easy steps!
Online Consultation
Fill out the online 15-minute questionnaire; a doctor will review your information and determine if Strut is right for you within 24 hours.


Online Telehealth Appointment
Chat with a U.S board-certified doctor; follow-ups are free!


Get Your Prescription
Your doctor will prescribe medication; you'll get your meds in the mail (in discreet packaging) within two days.

++ Cancel Your Subscription Anytime!
Pause, delay, or cancel your subscription from the online portal. Or, request a 90-day supply instead of a 30-day supply. 
Strut Does NOT Treat Some Conditions 
Strut offers prescriptions for some of the most common men's health issues (and a few products for women's health, too). Its services generally revolve around erectile dysfunction, premature ejaculation, STI treatments, and skin and nail solutions. 
If you need health services that fall outside of this realm, we recommend reaching out to an online doctor or online urgent care clinic. If you're specifically interested in women's telehealth, we recommend one of our women's health specialist partners; we believe in and recommend are Rory and Musely. 
Pricing: How Much Does Strut Cost? 
Strut visit: $15 and $39 per visit. 
Follow-ups: Free
If your doctor determines that telehealth isn't for you, you'll be refunded the price of the visit. 
Strut doesn't accept health insurance plans, though most services cost less than a doctor's visit copay. Check with your HSA to see if you can use your savings balance to pay for a doctor's visit with Strut.
Medication Costs on Strut:
Men's Health
Sertraline (generic Zoloft for premature ejaculation)/50mg 30-day supply: $25
Sildenafil (the active ingredient in Viagra for erectile dysfunction) 30-day supply: $30
Tadalafil (generic Cialis for erectile dysfunction)/5 mg 30-day supply: $30
Tadalafil Daily Dose/5 mg 30-day supply: $90
Hair Loss
Finasteride (Generic Propecia)/1 mg 30-day supply: $25
Sexual Health
Valacyclovir (generic Valtrex)/500 mg: $25 - $140
Genital herpes treatment: $25 - $140
Strut "O" Cream for women: $49
Skincare 
Strut Anti-Aging Formula: $49
Strut Acne Formula for women: $49
Strut Acne Scar Formula: $49
Strut Melasma Formula: $69
Strut Scar Formula: $49
Strut Brightly Formula: $49
Strut Rosacea Formula: $59
Hair and Nail Care
Strut Nail Formula: $59
Strut Hair Formula: $59
Flawless Combo: $89
Hairfect Combo: $79
Nailed It Combo: $79
Wellness Supplements
StrutVite Vitamins: $24
WoundVite™: $39.99
Most Popular Products 
Strut has an impressive arsenal of products, but since we like to keep you well informed and in the know, we wanted to highlight a couple of the most popular products. 
Strut "O" Cream 
If the name alone doesn't intrigue you, we're not sure what will. The team at Strut calls this product their "scream cream," and some of the testimonials state that this is the secret weapon for any woman looking for that extra push in the bedroom.  
You may be asking yourself, "ummmm, what is this cream exactly?" Well, the "O" Cream is a topical cream that can enhance a woman's sexual satisfaction by improving ease of stimulation, sensitivity, and the intensity of her orgasm. It is used at least 30 minutes before any sexual activity and is applied directly to the clitoris for maximum pleasure. 
Give this cream a try, and you could be on your way to saying that it's "O-mazing!"
Strut Scar Formula
Some say a scar is a badge of honor, and others say they wish they had a time-machine for that one time in college when they fell down the bleachers at the National Championship football game, which resulted in a huge gash on your right leg that ultimately turned into the nastiest scar (not speaking from experience). Well, for those looking to turn back time, Strut has THE product for you. It's coined very appropriately: Strut scar formula, a blend of prescription skin renewal medication with silicone to accelerate skin cell regeneration, minimizes discoloration, and helps scars heal quickly and completely. 
Strut Brightly Formula
Said to be Botox in a bottle, Strut's Brightly formula was designed by both dermatologists and pharmacists and blends proteins, vitamins, and naturally found skin building components that work synchronously together to help brighten, moisturize, and reduce fine lines. This unique cream is chock full of vitamin C (natural skin brightener), acetyl hexapeptide (reduces the appearance of fine lines and wrinkles), panthenol (inflammation reducer), and hyaluronic acid (skin plumper). 
And, if you're looking to take your beauty regime a step further, Strut also offers a combo pack called the Flawless Combo that includes the Brightly formula along with the anti-aging formula for those wanting to feel their best and brighten up any room they walk in to. 
"Shine bright like a diamond!" -- Rihanna
What Do We Think About Strut?
When it comes to sexual health (especially men's sexual health), we think the Strut knows what's up. This platform understands the social stigmas surrounding rosacea, hair loss, sexually transmitted diseases, and premature ejaculation — and found a secure and discreet fix. 
We're impressed by the large menu of services the platform offers. From skin conditions to scars and vaginal numbness, there are few sexual health conditions that Strut's doctors don't treat. 
Since all services are provided online, and patients receive prescriptions by mail, there's no need to feel embarrassed by heading to the pharmacy or chatting with a doctor in person. 
And even if you're not affected by the social stigmas of hair loss and premature ejaculation, the convenience of an online doctor's visit and prescriptions mailed right to your door make this service a no-brainer.
If you're suffering from premature ejaculation, hair loss, skin conditions, hair, or nail conditions, schedule an appointment with Strut Health today!
Interested?
Find out if Strut is right for you