Paloma Health Review
Get $19 OFF with code RELIEFSEEKER! Paloma Health is a telemedicine provider that offers a way for you to test your thyroid function from home — the Complete Thyroid Blood Test Kit for only $99!
Table of content
Every year, millions of Americans find out they have hypothyroidism. Patients with severe cases need invasive treatment, while other cases are milder and can be resolved with smaller adjustments. Some people with hypothyroidism don't realize they have it. They simply learn to live with symptoms like tiredness, weight gain, and depression. But why, when it doesn't have to be that way?
Some people don't get diagnosed because they hate visiting the doctor. But that's only one potential reason. A second reason is scheduling: It's tricky for some people to take time off of work for the appointment. Others can't stand sitting in a crowded waiting room.
At a certain point, though, the symptoms and discomfort can become unbearable. When that moment comes, people are more likely to start to seriously seek a treatment plan. If you suspect you might have undiagnosed hypothyroidism but don't want to go to the doctor, there may be a solution for you.
Paloma Health is a telemedicine provider that offers a way for you to test your thyroid function from home — the Complete Thyroid Blood Test Kit.
But does Paloma's at-home thyroid test work well? Read on as we unpack the details.  
Paloma Health Review
Founded in 2019, Paloma Health is first and foremost an endocrinology practice. They focus primarily on the diagnosis and treatment of patients with hypothyroidism. This piece will mainly discuss the at-home test kit, but that is not all Paloma Health offers. They also offer remote consultations and treatment, including appointments with nutritionists and medicines prescribed by thyroid doctors.
Consultations are only available in a handful of states: Arizona, California, Colorado, Florida, Georgia, Illinois, Indiana, Maryland, Michigan, Missouri, Ohio, Pennsylvania, Tennessee, Texas, Wisconsin, Virginia, and expanding quickly! The cost of your consultation may vary depending on which state you're located in.
The at-home Complete Thyroid Blood Test Kit is pretty widely available throughout the United States. The only states in which it is not available are New York, New Jersey, Rhode Island, and Maryland. You must be at least 18 years old to take the test.
Thyroid and Thyroid Disorders
Before we can talk about Paloma's at-home test kit, you'll need to know some basics about the thyroid gland and the conditions associated with it. That will help you understand why we believe Paloma is so effective. 
What Is the Thyroid Gland and What Does It Do?
The thyroid gland is a butterfly-shaped endocrine gland in the lower, front part of your neck, right under your Adam's apple.  Its main job is to produce and secrete hormones -- specifically, Thyroxine (T4) and triiodothyronine (T3). 
Thyroxine (T4) – Thyroxine is the main hormone that your thyroid gland makes. It enters your bloodstream and causes many changes in your body. Thyroxine plays a role in brain development, heart function, the digestion process, and bone health.

Triiodothyronine (T3) – Triiodothyronine is essentially the active form of thyroxine. Like thyroxine, it's important in heart and brain function. It also aids in metabolism and energy production. 
You need to produce enough of these thyroid hormones to maintain normal health function because nearly all of your body systems depend on them. In addition to the functions we've mentioned, your thyroid is also partially responsible for your fertility and glandular function.
Thyroid Disorders
Out-of-whack hormone levels can spell trouble, saddling you with a wide range of symptoms: unwanted weight loss or gain, mood disorders, problems regulating your body temperature, and more. 
Hyperthyroidism
If your thyroid is overactive, that means it's producing too much thyroxine. This condition is called hyperthyroidism, and it can speed up your body's metabolism.
With hyperthyroidism, you might experience irritability, fast heart rate, weight loss, mood swings, and more. One common cause of hyperthyroidism is an autoimmune disease called Grave's Disease.
Hypothyroidism
On the opposite end of the spectrum, your thyroid might not produce enough thyroxine. This means your thyroid is underactive -- in other words, that you have hypothyroidism. This is more common than hyperthyroidism.  Statistics show that 5 out of 100 Americans (12 years and older) have hypothyroidism. Hypothyroidism is much more common in women than in men.
With hypothyroidism, you may experience:
Exhaustion

Unexplained weight gain

Thinning hair

Dry skin

Slower heart rate

Mood swings and depression

Sensitivity to temperature, especially cold

Muscle and joint pain
Hypothyroidism isn't necessarily something you're born with -- you can develop it over time. There isn't one single cause, either. It can stem from many other conditions, including thyroiditis, genetic factors, and autoimmune diseases like Hashimoto's disease, or surgical removal of your thyroid.
How are Thyroid Disorders Diagnosed and Treated?
The process of diagnosing thyroid disorders, especially hypothyroidism, can be tricky for doctors. They start by taking your medical history and doing a physical exam. But it's difficult to actually diagnose hypothyroidism because its symptoms can look like those of other conditions.
That's why blood tests are the most common method doctors use to test your thyroid and make a diagnosis.
That is where Paloma enters the scene.
There are a variety of treatment methods for thyroid disorders. Your needs will depend largely on what type of thyroid disorder you have. If you have hypothyroidism, you'll probably need medication to replace your body's thyroxine supply.
Paloma's At-Home Thyroid Test Kit
As stated before, Paloma Health does offer consultations and treatment for hypothyroidism patients, but this review will primarily focus on Paloma's at-home thyroid test kit.
The best part of the test kit is that you can do it from home in a simple, painless way. You won't need a doctor's appointment or blood work other than the finger prick you'll give yourself. 
You don't even need a referral from a doctor to order the kit.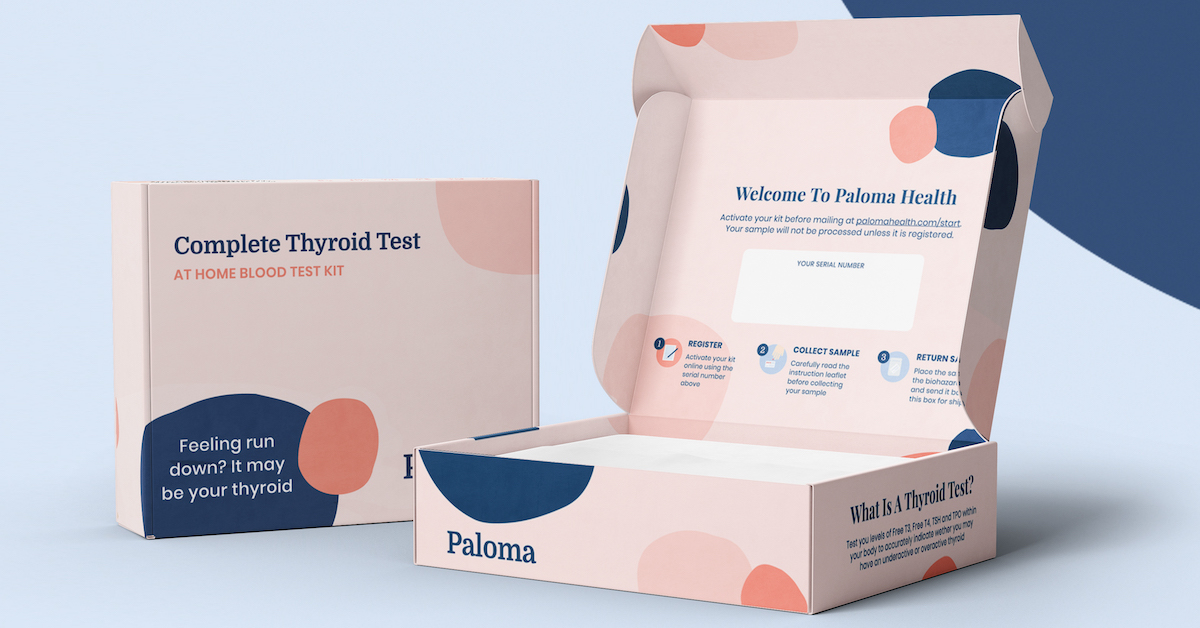 What Does the At-Home Thyroid Blood Test Do?
The blood test will check your thyroid hormone levels and screen you for thyroid disorders. If you suspect you may have a hypothyroid disorder, you can get some answers this way.
By looking at your thyroid function and hormone levels, the blood test looks for both hyperthyroidism and hypothyroidism.
Which Thyroid Hormones Does It Test?
Your biomarkers are an indication of how well your thyroid functions. Paloma's thyroid test checks your levels of these biomarkers: thyroid-stimulating hormone (TSH), free triiodothyronine (fT3), free thyroxine (fT4), and thyroid peroxidase antibodies (TPO).
TSH – Thyroid-stimulating hormone produces hormones in the thyroid gland itself. According to doctors, TSH is the best biomarker to screen for when looking for thyroid conditions.

fT3 – As noted, free triiodothyronine is produced by the thyroid. Checking for this biomarker can tell you if you're producing too many hormones, or not enough.

fT4 – The test also checks for the most prevalent hormone, thyroxine. This biomarker assesses whether you're producing normal amounts of hormone or not.

TPO – When thyroid peroxidase antibodies bind with particular enzymes, they interfere with normal thyroid function. Too many can be an indication of a thyroid disorder.
Extra Biomarker Add-Ons
If you like, you can have your test screen for two additional biomarkers: Reverse T3 and vitamin D. Reverse T3 is a metabolite of thyroxine; adding this will shed more light on thyroid metabolic activity. Low vitamin D levels are sometimes associated with hypothyroidism. When you order the standard kit for $99, you can add on reverse T3 for $64 and vitamin D for $53.
Is this blood test different from one my doctor would do?
No. Paloma's at-home thyroid blood test gives you the same laboratory results you'd get from a doctor's office, and it's evaluated by licensed endocrinologists. The only difference is that you don't need to go to a doctor's office -- you can take the test at home by just pricking your finger.
What Is the Process Like?
The test itself is fairly simple, with no referrals necessary.
You'll start by registering and creating an account on Paloma Health's website. You'll need to complete some standard telemedicine protocol, including consenting to Paloma's terms of service and reviewing their HIPAA notice.
Once you've set up your account, you can order your test kit. The test itself is quick and pain-free. Unlike many doctor's-office thyroid tests, Paloma's at-home thyroid test doesn't require a needle -- just a finger-prick and a few minutes. 
Paloma doesn't give an exact timeline, but customers can usually see their results in a matter of days.
Paloma Health Reviews
Here are a few customer Paloma Health reviews for the at-home test kit:

"Paloma put together a home test that is quick and easy, and best of all, fast. One week from the day I received the test kit I had the test results. Plus, their website is extremely informative and the ability to have a follow-up with an actual doctor is an amazing perk. It is one thing to know and another thing to act upon the knowledge. Paloma facilitates both at an affordable price."
Jonathan, 5/5 Stars on Google Reviews
"This kit is fantastic! I discovered my Hashimoto's! Went to my Dr, they ordered the same lab tests, and the Paloma results were identical to my Drs lab! This is a legit company! I received a personal phone call, excellent communication on all my questions, and am now taking the Paloma thyroid supplements. I can't wait to see them grow and will continue to buy their products and test kits! This is not a sponsored post. Just my personal experience."
Sara, 5/5 Stars on Google Reviews
"The at-home lab testing kit is so nice. Very convenient for me. I don't have to take time off work to go get my blood drawn. And getting an appointment online is so nice and helps me not interfere too much with my work schedule."
Christinia, 5/5 Stars on Google



How Much Does the Paloma Health Thyroid Test Kit Cost?
The Complete Thyroid Test kit is $99 and comes with complimentary 3-day shipping. You can add on reverse T3 for $64 and vitamin D for $53 - these add-ons are NOT offered by other at-home Thyroid Test Kit makers.
Unfortunately, most insurance plans won't cover an at-home test kit. However, the at-home test kit is usually cheaper than paying out-of-pocket for bloodwork at a doctor's office. This will depend on your particular health insurance plan. Paloma Health does accept FSA and HSA account payments for the at-home test kits.
Does Paloma Health Accept Insurance?
In some cases, the at-home thyroid test is eligible for some amount of coverage by insurance providers. This will depend on your own coverage plan and we encourage you to check with your insurance company to see whether they will cover all or some of the cost of our at-home thyroid test. When discussing coverage, it is important that your carrier understands specifically what the test is and what it is testing for. Be sure to mention the following key points: The test is taken at home via a blood sample and analyzed by our partner laboratories and the test measures TSH, free T3, free T4, and TPO antibodies.
Medicare and Medicaid are unlikely to cover this type of at-home test.
For our virtual doctor consultations, we accept most major commercial insurance plans. If we don't take a patient's particular plan yet, we can help file for out-of-network reimbursement if their plan allows this. Our care team is happy to check into a patient's plan to let them know for sure.
How Does Membership With Paloma Health Work?
Once you've gotten your results, you can decide whether to continue telehealthcare with Paloma Health membership. 
Here's what you'll get with membership:
Access to qualified healthcare providers — endocrinologists, registered dietitians, and medical doctors.

Personalized care plan — a 12-week protocol plan to help you make positive lifestyle changes in ways that work for you.

Prescription medications, diagnostic tests (lab, imaging, etc.)
Membership costs $20 each month, plus $42 per appointment with a thyroid doctor. Again, this usually isn't covered by insurance, but check with your insurance provider. If you're unsatisfied with your membership, you can cancel anytime. Don't forget to check on the availability of membership for your state.
How Does Paloma's At-Home Test Compare to Other Tests Like It?
Paloma's at-home thyroid test kit tests the same biomarkers as other companies' at-home test kits do. The main difference lies in the cost.
For example, the EverlyWell thyroid test kit is less expensive, but many customers have had to wait a long time for their test results. ZRT Laboratory's test screens for more biomarkers (vitamins and minerals), but theirs is pricier — at least $175.
Takeaways
So, what are the pluses?
Paloma is excellent when it comes to factors like convenience, price, and quality.
Here are a few specific advantages:
Results you can trust – Licensed endocrinologists will oversee each part of your testing process. Your blood sample will be processed by trustworthy CLIA- and CAP-accredited labs.

Continued care – Paloma's membership is a great option if you're looking to manage your hypothyroidism without going to the doctor. The fact that your care is remote doesn't sacrifice the quality.
The test kit's primary drawback is that it's not available in all 50 states. Also, there's room for improvement in the website's explanation of the testing procedure.
Here's what it boils down to; Paloma's at-home thyroid test kit is an effective option if you'd like to find out if you're living with a thyroid condition without a doctor visit. It also provides an excellent foundation of information that can equip you to start a plan of action.
All in all, Paloma Health looks like a great option to explore.
Interested?
Find out if Paloma Health is right for you