HealthLabs Review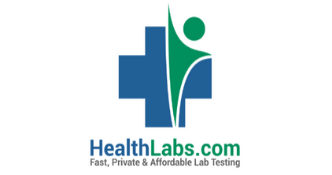 #4
Editor's pick for At-Home Lab Testing
HealthLabs.com is an online testing service for STDs and general health. HealthLabs.com is a fast, private, and affordable lab testing that needs no doctor's prescription or insurance. It has more than 4500 CLIA – certified labs located across the U.S. 
Accepts
Does Not Accept Insurance
Table of content
HealthLabs.com Company Review
HealthLabs.com has been providing affordable services to its customers since 2015. HealthLabs.com works with thousands of CLIA certified labs across the united states, making lab testing convenient and affordable for the customers. For individuals who do not have insurance or for those who do not want to pay high co-payment, HealthLabs.com is a good option. The testing is done anonymously, keeping with complete privacy. Visit online on their website to book a test for yourself, and since everything is online, once you have the booking, you can walk to your nearest lab the same day. HealthLabs.com provides test results back in 1- 3 days. If you don't have a doctor's prescription, not to worry, the medical team at HealthLabs.com will write down one for you.  
HealthLabs.com has a wide range of STD tests and tests for general health. For STDs, you can get a basic hepatitis test to a more in-depth HIV testing. HealthLabs.com offers guaranteed satisfaction to all its customers. Their trained advisors are available to assist you every day from 6:00 a.m. to 10 p.m. CST.
Is HealthLabs.com for You? 
There are many reasons to choose HealthLabs.com as your service provider for STD testing one of the primary reasons is the convenience. HealthLabs.com directly provides lab testing to its consumers without any doctor's referral or even if you don't have medical insurance. Yes, all testing needs a medical prescription, but if you don't have one, don't worry, the medical professionals at HealthLabs.com will write one down for you. HealthLabs.com has 4500 plus labs across the united states, which makes it convenient for you in terms of reachability. All labs HealthLabs.com are partnered with are CLIA certified and assure the same testing results as with your traditional doctor. And most importantly, once you have paid you the test, there will be no more hidden or added cost to your bill later. HealthLabs.com provides a 110% guarantee for your price.
For a busy professional, it's not easy to take out time and book appointments on a weekday when searching clinics on the weekend. You will find HealthLabs.com at your service. There are many tests that you can order other than STD tests with HealthLabs.com. You can also combine your STD tests with other general tests, allergies, or diabetes, for instance. Millennials these days are looking for a convenient and private alternative to affordable health care that is credible as well. Many online test providers do not provide 100 percent assured test results. HealthLabs.com is a natural step towards affordable and reliable healthcare services. 

How HealthLabs.com Works?
Like any other online test service provider, you would first need to visit their website and book a test for yourself. If you have an already recommended test from your doctor, simply book the test. In case you do not have a doctor's prescription wish to take a test for yourself, don't worry, the doctors at HealthLabs.com will write a doctor's order or referral that is needed by the lab for the analysis. Most service providers send the STD testing kits at your doorstep and require you to send them back with the samples collected by you, and you never have to visit anywhere. But with HealthLabs.com, things are a little different; You would have to walk into one of their partnered labs in your reachability. You don't require to wait in line, just walk into the lab, and your tests will be done in a few minutes.  
One of the benefits of doing online lab testing is that it provides you the flexibility to choose and purchase the tests you want online in a secure manner. Once the testing is done, most of the results are available online within just 1- 3 days. You can also take a printout to consult your doctor or to keep them in your medical records. Since the results are online, you can also access them anytime through your smartphone or computer. HealthLabs.com follows laws in accordance with HIPAA privacy rules and keeps complete care of your privacy and your medical records.  
What's Inside your test kit?
HealthLabs.com primarily serves as a platform for you to connect you with a lab in your area to conduct the test. Therefore, there will be no kit that will be sent to your place. Once you book the test you need to perform, they will send a lab order to your online account that will help you to visit the lab and get your tests done. 
Is HealthLabs.com Credible?
All testing labs of HealthLabs.com are CLIA certified labs that your doctors use, which means that they have high standards of performing the tests. Furthermore, HealthLab.com abides by state laws strictly and follows the law in accordance with the HIPAA privacy rule. This means that HealthLab.com is subject to state and federal laws and provides complete privacy of your records. HealthLabs.com keeps your data protected and private; even when you visit the lab to get yourself-tested, not many questions will be asked to you. Although if you test positive, then HealthLabs.com may have to report your case to the local health department. 
If you are paying your bill from your credit card, then the name of the test will not appear on your statement. Only the name of the company HealthLabs.com will appear, avoiding any chance to disclose your privacy.  

Services HealthLabs.com Provide
HealthLabs.com provides a wide range of tests from Allergy testing to Drug testing the also conducts Fertility and pregnancy tests, Immune detection, Testosterone testing, diabetes, hepatitis testing, and many more. If you wish to order other tests with STD testing, then they allow you to do so as well. For STD testing you can either order an individual test or can choose from various panels: 
Comprehensive STD Panel: it is the most popular test. This panel tests for 10 STDs and includes HIV 4th Generation Duo Antigen/Antibody Test.
Comprehensive STD Panel with Early HIV Detection: This panel includes tests for ten standard STD tests and also covers HIV RNA tests for early HIV detection
Ultimate STD Panel (With Early HIV & Trich): This panel includes tests for 11 STDs, including trichomoniasis testing and early detection of HIV RNA testing.
Bacterial Infection STD Panel: The Bacterial Infection STD Test Panel tests for four STDs, including Chlamydia, Gonorrhea, Syphilis, and Trichomoniasis.
Viral STD Panel: This STD panel tests for seven viral sexually transmitted diseases, including HIV Type 1 & 2, Herpes Type 1 & 2, Hepatitis A, B, and C.
Chlamydia and Gonorrhea Panel: This urine test panel is used to detect the strains of bacteria that cause Chlamydia and Gonorrhea: Chlamydia trachomatis and Neisseria gonorrhoeae.
Individual tests are available for Chlamydia, Gonorrhea, Hepatitis, Herpes, HIV, Mycoplasma Genitalium and Hominis Tests, Syphilis, and Trichomoniasis tests.

How Much HealthLabs.com Cost? 
HealthLabs.com offers services at very affordable prices. There are no hidden prices once you pay for your order online. Even after visiting the lab, no extra charges will be added to your bill. Their tests start from $ 72 and go up to $444 for an extensive STD test kit.   
Chlamydia and Gonorrhea Panel: $129
Bacterial Infection STD Panel: $199
Ultimate STD Panel with early HIV and trichomoniasis detection: $444
Comprehensive STD Panel with early HIV detection: $349
Comprehensive STD Panel: $198
Hepatitis A, B & C Panel: $72

What Do We Think About HealthLabs.com?
HealthLabs.com provides test results quickly, and you don't need insurance to order service through them. HealthLabs.com is a private and reliable service that has more than 4500 labs in the United States that are CLIA – certified labs located across the U.S. this means that they are top quality labs the same as your doctor's. The only setback to their service is that HealthLabs.com don't offer at-home sample collection of your tests, you have to visit their nearest lab to get your tests done. 
Interested?
Find out if HealthLabs is right for you