Curex Review
Get long-term relief from your allergies, asthma, and eczema. Use code RELIEF75 to take $75 off your first order of at-home immunotherapy with Curex.
Accepts
Does Not Accept Insurance
Table of content
Curex Allergy Company Overview 
Curex is an at-home testing & allergy treatment company specializing in at-home immunotherapy treatment, delivered to your door to treat 60+ types of seasonal, indoor and outdoor allergies.
Similar to allergy shots, at-home immunotherapy can help treat the cause of your allergies — not just the symptoms. Over the course of several months and up to several years, you'll administer the allergy treatment underneath your tongue each morning. The treatment comprises microdoses of allergens that help your immune system build up a resistance to allergies. The most significant benefits of sublingual immunotherapy versus shots are that there are no needles involved, sublingual treatments are more cost-effective, and you can get treated right from home.  
Sublingual immunotherapy is an effective means of treating both indoor and outdoor allergies. Each clinician-prescribed treatment is customized to each patient's specific allergies, and this treatment may even eliminate the need for allergy medications and over-the-counter treatments altogether. 
The goal of sublingual immunotherapy is the long-lasting reduction in allergy symptoms, and the treatment takes time.  A large percentage of patients will see the first signs of improvement after being on allergy immunotherapy within 3 to 6 months. However, noticeable symptom improvement can take up to one year, backed by efficacy reported in 52-week sublingual immunotherapy studies and the clinical experience of the Curex affiliated clinicians. Our clinical team recommends staying on immunotherapy for 3-5 years, and results may last decades. 

Is Curex Right For You? 
Curex offers a convenient, long-lasting way to treat allergies without harsh side effects, steroids, or antihistamines. At-home immunotherapy might be right for you if you:
Suffer from indoor/outdoor allergies

Are over the age of 6

Need effective and safe allergy treatments

Don't love the idea of needles

Want to get treated for allergies at home

Need a cost-effective alternative to allergy shots

Don't want to deal with antibiotics, inhalers, or steroids

Crave a meaningful reduction (by more than 40%!) in symptoms within six months

Ready to commit for up to 3 years to get long-term relief from allergies


Is Curex Credible?
At-home immunotherapy was developed by leading allergy clinicians in the U.S. and EU approximately 40 years ago.  Now it is practiced by leading allergists at Stanford, NYU, Johns Hopkins, and the American Academy of Allergy, Asthma & Immunology.
Curex's clinical team, pharmacy partners, and diagnostics centers have more clinical experience with sublingual immunotherapy than any other company in the U.S.  
Hundreds of doctors and thousands of patients use at-home immunotherapy. It's the safest form of immunotherapy, as there are no needles or doctor's office trips required. Curex reviewers appreciate that Curex offers all their patients a 10-minute first drop appointment to help with administration or answer any questions that may arise. Curex clinicians will also monitor and adjust doses as needed.  
While at-home immunotherapy is relatively new to the US, it is the standard for allergy care in Europe. In fact, nearly 90% of patients in France opt for at-home immunotherapy instead of allergy shots. 
Curex is the first at-home immunotherapy program and the first of its kind to be offered across the U.S. 
All ingredients are FDA-approved and include small microdoses of the specific allergens each person needs to address.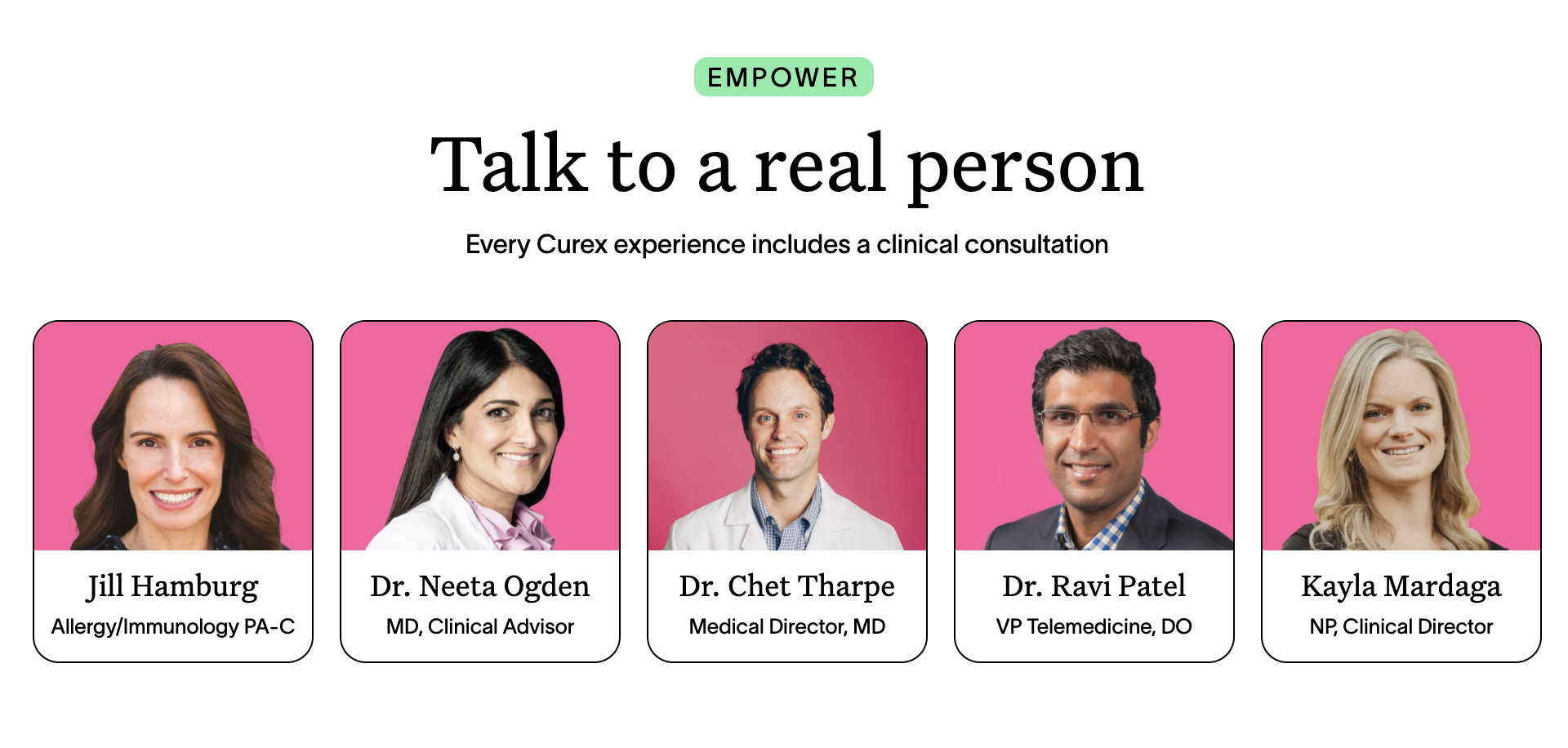 Health Conditions Treated by Curex  
Curex clinicians and allergists can treat a long list of allergies with at-home immunotherapy, including allergies caused by:
Pets

Dust mites

Grasses

Weeds

Pollens

Molds
Curex can treat specific mite, pet, pollen, mold, grass, and weed allergies, including allergies to:
Dust mite Allergies
Dust mite (d. pter)

Dust mite (d. far)
Cat, Dog, and Other Animal Allergies
Cat dander

Cattle

Cockroach

Dog dander

Guinea pig

Horse dander

Mouse

Rabbit
Pollen Allergies
Alder

Bayberry

Birch

Box Elder (Maple)

Cottonwood

Elm

Hickory

Juniper

Maple

Mountain cedar

Red Cedar

Mulberry

Oak

Olive

Pecan

Poplar

Sweetgum

Sycamore

Walnut

White ash
Mold Allergies
Alternaria alt.

Aspergillus fum.

Cladosporium fum.

Penicillium
Grass Allergies
Bahiagrass

Bromegrass

Bermuda grass

Johnsongrass

Perennial ryegrass

Timothy grass
Weed Allergies
Carlessweed

Dock/Sorrel

Lambs Quarter

Lenscale

Plantain

Mugwort

Ragweed

Rough pigweed

Russian thistle

Sagebrush
Curex Reviews
Allie, Nevada
"Literally happier than I've ever been."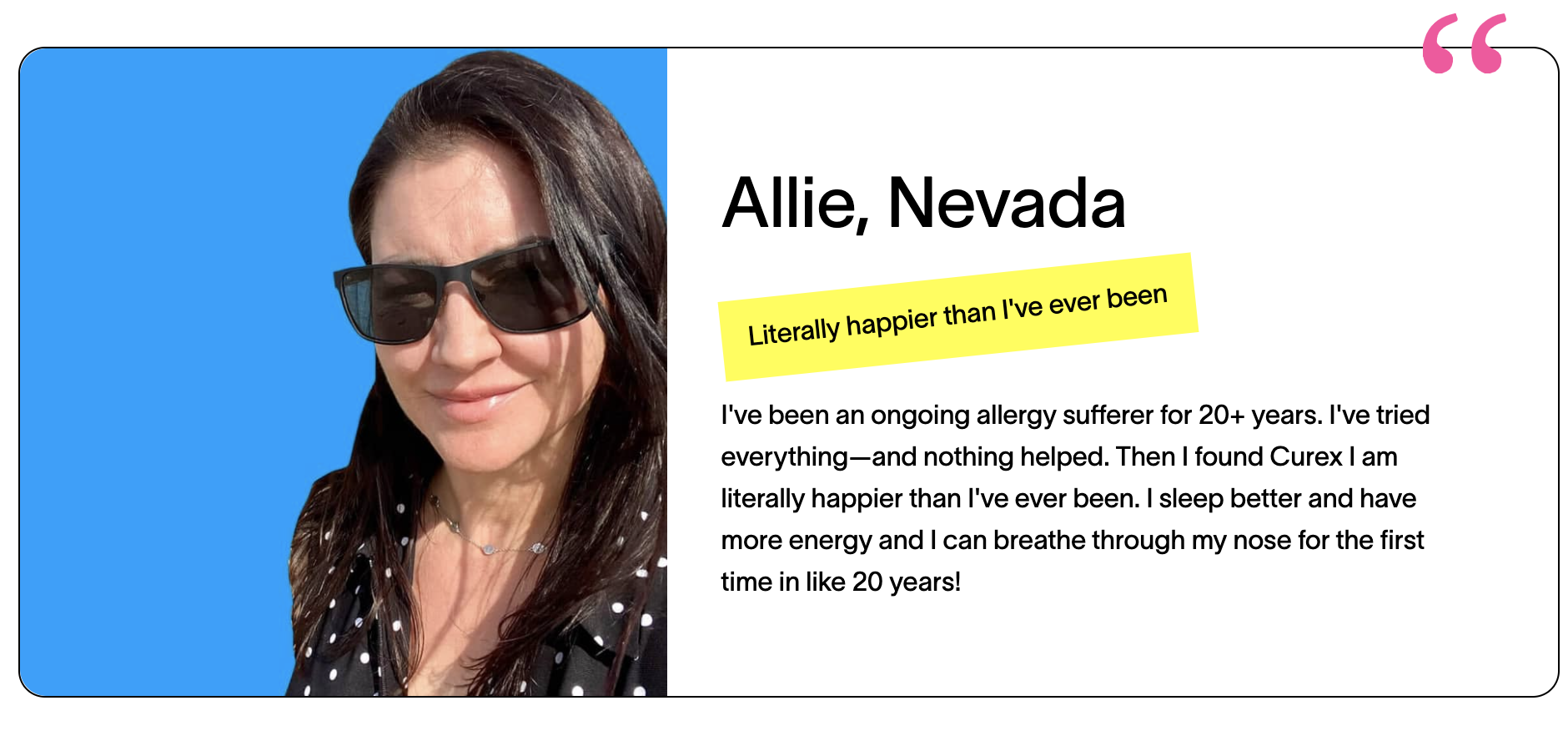 Zach, Texas
I can cuddle my cats!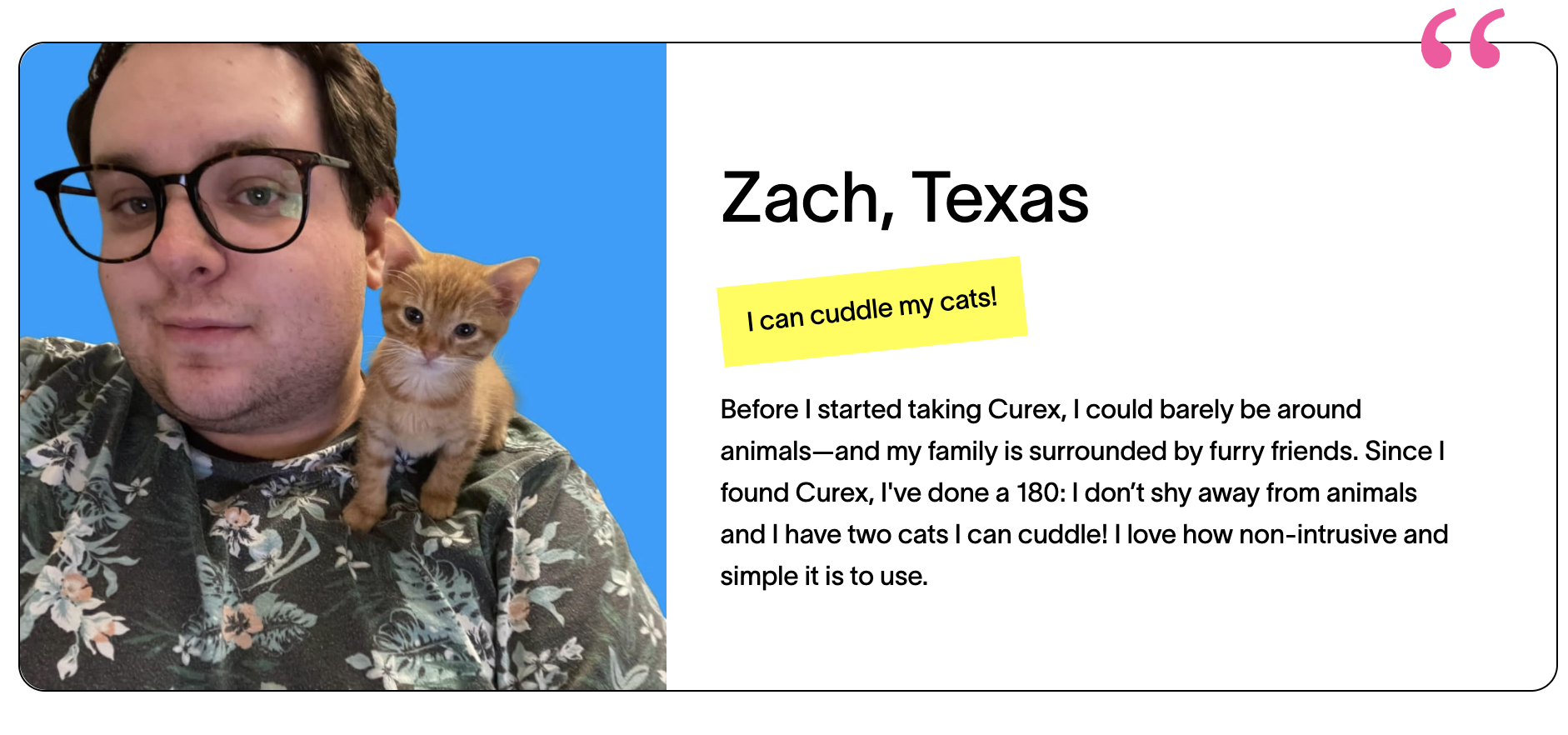 How Curex Allergy Treatment Works
Curex makes it very easy to get treated for indoor and outdoor allergies. Before signing up for the service, you'll need to see if you're eligible for at-home immunotherapy. If you've already completed a skin scratch or blood test for allergies in the last five years, you can simply use those results. 
Curex treatment starts with a medical questionnaire. Simply answer a few questions about your allergy symptoms and medical history. You'll also be asked to make a telehealth screening appointment when you're also able to ask any questions about the at-home immunotherapy program.
The following steps must be completed to get treatment with Curex: 
Fill out a medical history and symptoms questionnaire to determine your eligibility and immunotherapy needs. It's a short quiz, think of it as an online intake form that you would fill out at your doctor's office. 

Meet with a Curex clinician to discuss your allergy history and symptoms.

Receive your personalized treatment shipped directly from the pharmacy. 

Take Curex immunotherapy treatment each day, as directed by your allergist. 

Start feeling better!
Curex Does NOT treat Some Conditions 
Curex provides long-lasting relief of allergy symptoms and treats the cause of allergies. Yet, this telehealth powerhouse can't do everything. Curex clinicians on this platform can't treat food allergies with at-home immunotherapy but may help advise on lifestyle changes. 
If you have uncontrolled asthma, you'll need to get treated for this underlying condition before starting at-home immunotherapy.
Curex cannot treat anyone with a high risk of anaphylaxis.
How Much Does Curex Cost? 
Curex's fees are pretty reasonable — especially when considering the cost of immunotherapy shots and annual allergy medications. The platform charges the following fees for immunotherapy treatment plans, which include a daily immunotherapy prescription plus access to unlimited clinical care via telehealth):
Allergy Test (Indoor and Outdoor): $199/kit (was $249)

Allergy Immunotherapy (Sublingual/Oral): From $65/month (pricing depends on which billing structure you choose)

Allergy Injections (administered at a doctor's office) $200/month (depending on insurance)
How Curex billing works:
Quarterly: $285 billed every three months ($95/month)

Annually: $900 billed annually ($75/month)

3 Year Plan: One-time charge of $2,340 billed for the first three years of treatment ($65/month)
Basically, how their pricing structure works, is the farther you pay in advance, the better deal you will get. You receive the same prescription and the same great, ongoing clinical care from the Curex team. 
If you opt for annual payments or a one-time, three-year payment, you can always get a prorated refund for unused treatment on canceled subscriptions. Curex allows you to cancel anytime and receive a refund (as long as your treatment has not yet been prepared by the pharmacy and shipped to you).
Simply send the team a message to cancel your subscription. The team will send you an email about two weeks before your next shipment is prepared. 
Curex's program currently does not accept insurance. However, it has negotiated volume discounts for its patient population and can provide affordable monthly fees lower than most insurance copays. You may be able to get a reimbursement for tests and consultations through your insurance provider. 
You may also use your HSA/FSA funds to pay for your services. 
What Do We Think About GetCurex.com?
We have to admit that we really love Curex's solution to indoor and outdoor allergies. 
While allergy shots still reign supreme in the US, Curex brings at-home needle-free immunotherapy to homes, making allergy treatments easier to access and more affordable. 
Curex's program is backed by scientific studies performed at one of the leading medical centers in the country and led by physicians from prestigious Universities and Medical Centers.
If you suffer from indoor or outdoor allergies, fill out the medical questionnaire on Curex's site to find out if you're eligible for affordable allergy treatments. 
Plus, when you use the Promo Code RELIEF75, you will essentially be receiving your first month for FREE! And who doesn't love that?!
Interested?
Find out if Curex is right for you