Anja Health Review
Anja Health offers an affordable, accessible, remote-based pathway to making stem cell blood cord banking more accessible and affordable for families across America. We appreciate their altruism-driven mission, and feel that they offer a great affordable option for affordable stem cell banking services.
Accepts
Does Not Accept Insurance
Table of content
Stem cell therapy (sometimes also known as regenerative medicine) is a growing, potentially promising mode of healthcare treatment that some experts believe could possibly revolutionize medicine as we fundamentally know it. 
The versatile applications it has for treating a number of conditions are potentially enormous; moreover, the numbers themselves appear to statistically corroborate the burgeoning excitement and enthusiasm around stem cell therapies. Here are a few key stem cell therapy figures worth knowing:
One study found that 50% of respondents responded to stem-cell therapies being used as anti-inflammatory treatments (InObGyn).
Another projection estimated that the stem cell market could potentially exceed 11 billion by the end of the decade, come 2029 (Statista).
Over 1 million adult stem cell treatments have been administered worldwide, with by and large demonstrably positive results. (Lancet Hematology).
The value of stem cell medicines and their usage is only expected to keep growing and propagating with time, but what about the market for stem cell telemedicine? It's an even more nascent field, but one of the newest leading power players in the stem cell telemedicine market is Anja Health. 
Anja Health is a new, innovative telemedicine stem cell banking service that affords patients the ability to save stem cells from their baby's umbilical cord and placenta at birth. There are over 85 FDA approved treatments using cord blood, so Anja Health is a great option for everyone. Here's what's worth understanding about how such a service works, and how you can decisively make the most of it.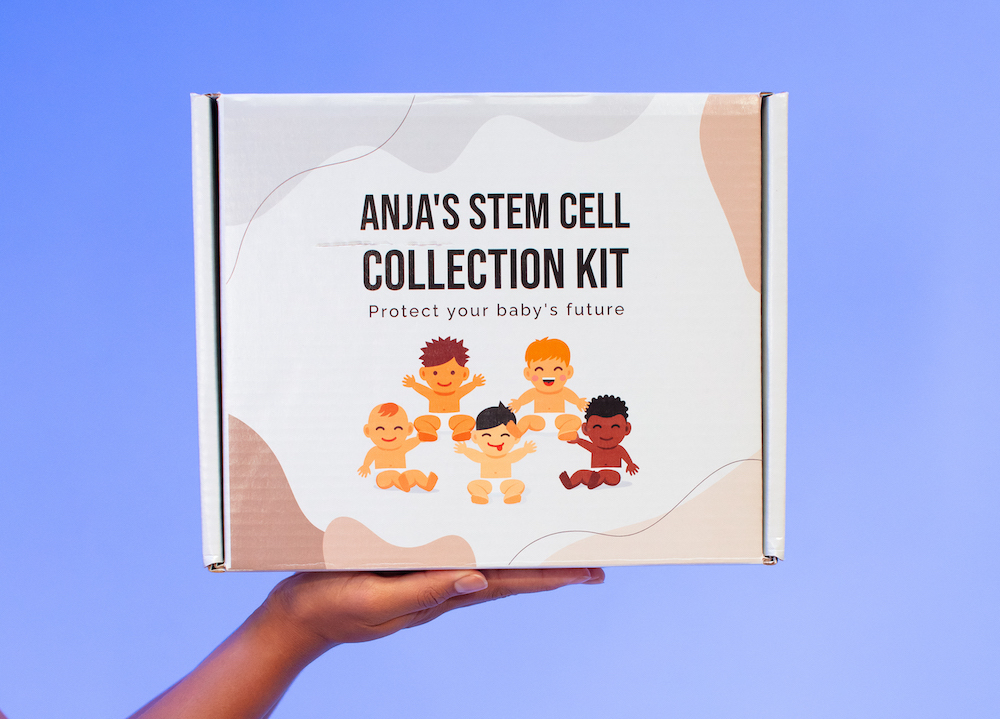 How Anja Healthcare Works
In the provider's own words to us, "Anja Health is the first affordable stem cell safe that collects and stores umbilical cord and placenta stem cells for future cell-based treatments. Our founder launched the company after her family was unable to find a cord blood match that would have saved her brother's life…"
It's this personal connection, borne out of love, that drove founder Kathryn Cross to help others support their loved ones with genetic matching. In the company's own words, "Anja Health is on a mission to make blood cord banking more accessible and more affordable to all parents - regardless of race, socioeconomic status, or income."
Anja Health sells three different types of stem cell banking kits for parents who want to preserve them from their newborn infants following birth. The collection kit is $199 (discounted with our code RELIEFSEEKER to $99), and they offer three different storage plans. The three categories of stem cell banking kits currently available from Anja are as follows:
Bean: Cord Blood ($35 a month, $3025 upfront)
Bud: Cord Blood and Tissue ($65 a month, $5605 upfront)
Bloom: Cord Blood, Cord Tissue, and Placenta ($85 a month, $7425 upfront)
Though stem cell banking isn't the cheapest service in totality, Anja Health affords patients the freedom and flexibility to pay off their plan at a far more manageable, affordable, and accommodating rate. Stem cell banking plans may also personally vary based on:
The baby's expected due date
The expected number of children
The birth parent's health
Anja Health sends its stem cell bank kits across the United States, and works with a contracted shipping company that touts over a decade of experience efficiently shipping medical products. Typically, siblings will be a 75% match for cord blood, and parents are a 50% match for cord blood. Kits can be speedily shipped to parents enrolled within three days of their due date, but Anja Health encourages expecting parents to enroll sooner rather than later.
Anja Health accommodates bigger expected families with twin and triplet discounts, and is accommodating to both vaginal and C-section deliveries. Anja stores its cord blood and cord tissue samples in a New Jersey-based facility. This facility is AABB accredited, a member of the Be The Match national directory of blood banks, and backed by the FDA and the American Society of Histocompatibility and Immunogenetics.
This lab has over 40 years of experience in stem cell processing, has processed over 35,000 units of cord blood, and provided such blood samples in over 300 medical transplants. Furthermore, Anja and its lab support patients at a 35% more affordable rate than the industry standard. With Anja Health, you can trust that your stem cell samples are in good hands. If you decide to proceed with moving forward, here's how the enrollment process will generally go:
Anja Health will send you their stem cell banking kit
You'll be expected to complete their health info forms
Bring the kit with you when you're giving birth
Let the admitting nurse or midwife know about your plans
Each kit comes with sample collection instructions on the inside, to ensure that your pregnancy care provider will be guided through every step of the way. It's recommended that you notify your midwife and/or attending physician(s) about your intentions to collect stem cells prior to giving birth.
Once the collection is finished, Anja Health will test the samples for traces of infectious disease, and corroborate the results with a stem cell certificate, delivered approximately one month after birth. Anja Health's stem cell banking kits utilize CPD to ensure maximum stem cell collection.
Are Stem Cells Only Found In Embryos?
Obviously not. Cord blood, tissues, and the placenta samples are all rich in stem cells, and different types of samples are more potentially efficacious at treating certain health conditions than others. A very, very wide range of conditions, including but not limited to:
Cancer
Alzheimer's
Lung Disease
Autism
Blood Disorders
Immune Disorders
Multiple Sclerosis
Sickle Cell Anemia
Stem cell therapies offer a potentially promising, regenerative pathway to potentially treating even the most damaging and degenerative of diseases. Even if your baby's stem cells aren't amenable genetic matches for you or your loved ones, you might have a chance at finding a potential genetic match elsewhere. 
Email the company's health experts at hello@anjahealth.com to learn more about any questions or concerns you might have prior to enrolling in their stem cell banking program. 
Are Stem Cells FDA Approved?
The Food and Drug Administration has acknowledged that stem cell therapies are a relatively new field of medicine that could still use ongoing research, and has cautioned patients to remain vigilant and not use fraudulent, potentially harmful stem cell products that are illegal and without FDA approval.
Fortunately, Anja Health's proprietary stem cell collection lab is backed by the FDA, and as things currently stand, the FDA now approves cord blood stem cell treatments for the purpose of treating over 85+ diseases, and that number is only expected to increase as further research into stem cell medicines continues. 
Visit Anja's FDA-approved stem cell treatment page to learn more!
Why Anja Health? Is Anja Health Legit?
Anja Health offers an affordable, accessible, remote-based pathway to making stem cell blood cord banking more accessible and affordable for families across America. We appreciate their altruism-driven mission, and feel that they offer a great affordable option for affordable stem cell banking services.
But if you're an expecting parent and still feel unsure about moving forward with Anja, we would recommend taking their short survey to better assess if you should bank your cord blood. It only takes 2 or 3 minutes, and will reward you with a $170 credit on your kit, should you choose to move forward!
Interested?
Find out if Anja Health is right for you